(Originally posted 5/18/20, updated 8/5/20)
Pushing hard to reach its goal of an electrified version in every model line and a "25 percent hybrids" sales mix by 2025, Toyota unveiled two new 2021 hybrid models Monday: The Sienna minivan and the Venza two-row crossover.
Both will go on sale later this year and both will be offered only as conventional hybrids. They will give Toyota a total of 11 hybrid models in its lineup.
The Venza, whose looks evoke the offspring of a Lexus crossover and a RAV4, is a midsize, two-row crossover slotted in between the compact RAV4 and the midsize, three-row Highlander.
[Estimated Reading Time: 3 min., 45 sec.]
While it borrowed its name from a tall wagon offered in Toyota's not-too-distant past, the 2021 Venza is all-new, built on the redesigned modular architecture – or platform – introduced with the 2015 Prius. Various versions have underpinned most new models launched since then.
The 2021 Sienna is built on the platform shared with the RAV4, Camry, Avalon, Highlander, Lexus ES sedan and the new Venza. It is a complete – and likely controversial – redesign although an obvious continuation of Toyota's venerable Sienna line, first introduced in late 1997.
Venza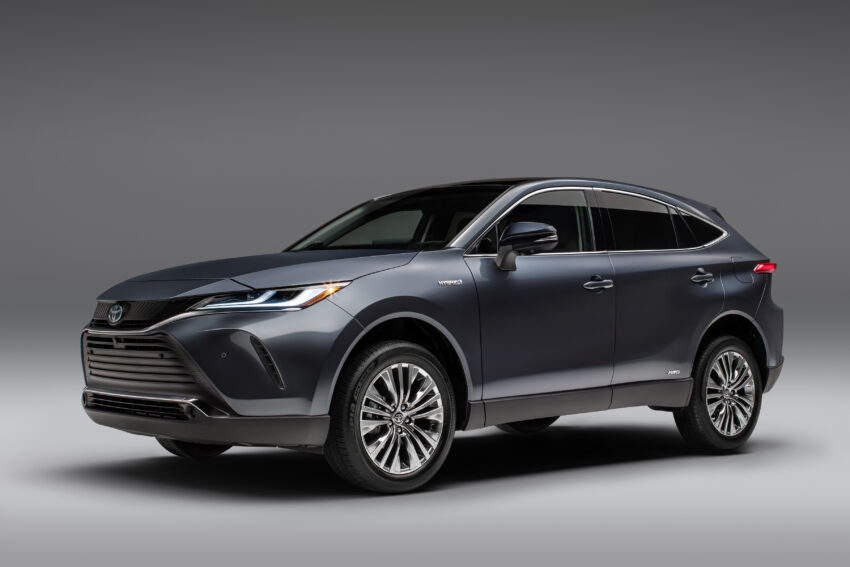 Designed to compete with other midsize two-row CUVs including the Honda Passport, Hyundai Santa Fe and Chevrolet Blazer, the Venza will be offered in three trim levels, all with hybrid powertrains and all-wheel drive as standard equipment.
The dual electric motor hybrid powertrain is borrowed from the RAV4, but is tuned to produce 216 horsepower.
Toyota estimates that the Venza will receive an EPA rating of 41 mpg combined city/highway fuel economy rating.
Toyota will include its Safety Sense 2,0 package of safety and driver assistance features, as well as blind spot monitoring with rear cross traffic alert, as standard equipment on all Venza trims.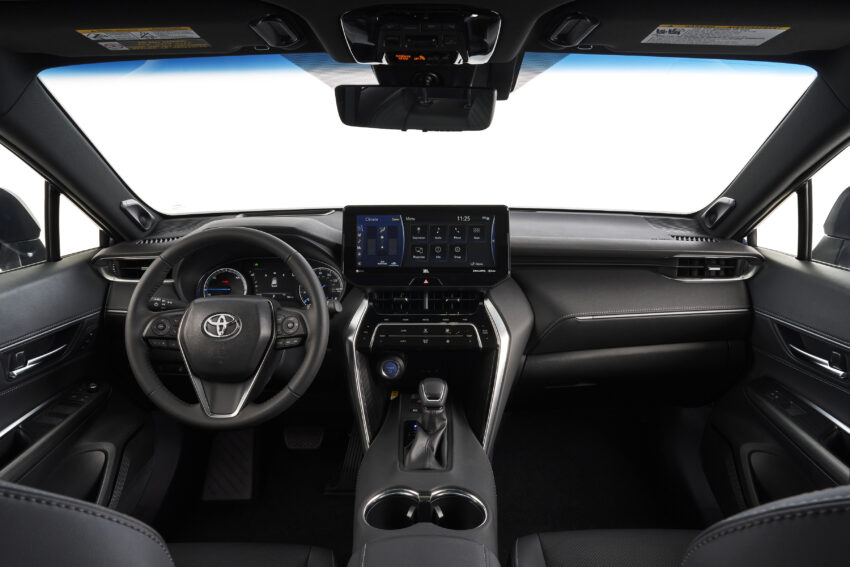 Other standard features include a hands-free power tailgate, power adjustable driver seat and an 8-inch color touchscreen for the infotainment system
A fixed-glass, electro chromatic panoramic roof that switches from frosted to transparent with the touch of a button will be a featured option.
Expect pricing to start around $33,000, which is competitive with all-wheel drive versions of other two-row midsize crossovers.
Toyota said it will launch the 2021 Venza this summer.
The original Venza, styled more like a tall wagon than an SUV, initially was a a twin of the Lexus RX. It was introduced here in 2008. It separated from the Lexus platform in 2009 and was discontinued in 2015.
The new Venza is the U.S. version of the Toyota Harrier that's sold in Japan.
Sienna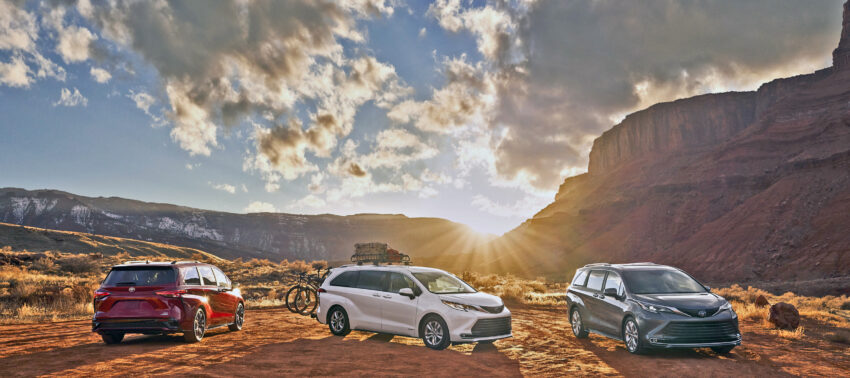 Toyota redesigned the 2021 Sienna in an effort to shed its soccer-mom image.
The new styling is likely to draw criticism from some minivan fans.
It's a pretty wild look that features a massive "cow catcher" grill flanked by gaping intake vents and topped by a slightly bulbous nose. The side view reveals deeply scored character lines and bulging rear flanks. The roofline slopes rearward from B pillar to the tailgate – which appears to share a little of the RAV4's DNA.
Toyota will offer the 2021 Sienna in five trim levels.
The hybrid powertrain pairs Toyota's two-motor hybrid system with a 2.5-liter gas engine. All-wheel drive – available in all trim levels – adds a third electric motor on the rear axle to drive the rear wheels.
The system produces 243 horsepower and will delivers a Toyota-estimated 33 mpg combined.
That's an 18 percent drop in horsepower from the outgoing Sienna's standard 296 hp V6, but the hybrid should provide quick acceleration via its instant-torque electric motors.
The 2021 Sienna's standard hybrid system also delivers a hefty 57 percent bump in estimated fuel economy versus the outgoing models' 21mpg combined rating.
The all-hybrid 2021 lineup also retains the Sienna's 3,500-pound tow rating.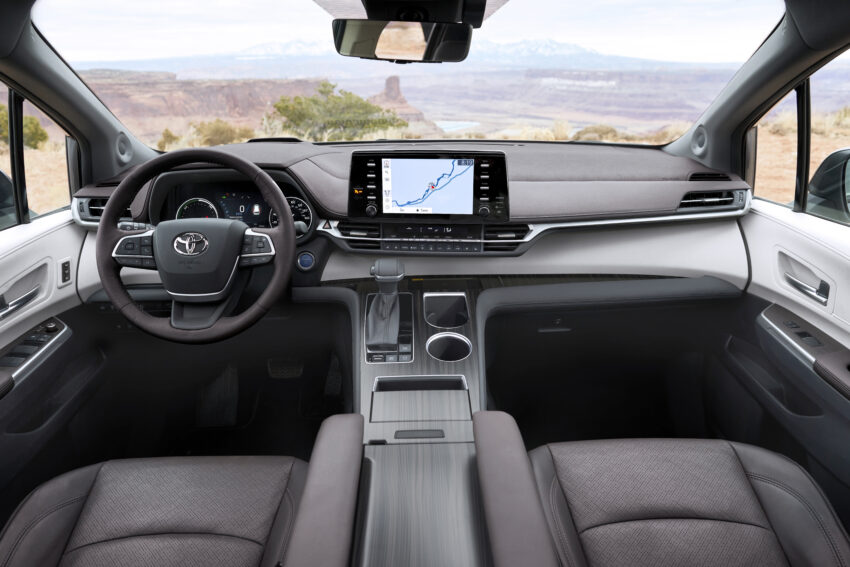 Standard equipment across the lineup includes Toyota's Safety Sense 2.0 suite of safety and driver assistance features, blind spot monitoring and a 9-inch color touchscreen for the infotainment system.
Except for the base LE trim, all 2021 Siennas also get a sonar-based front and rear parking alert system, hands-free power sliding side doors and tailgate; four-zone climate control, heated front seats and power moonroof.
The LE and some XLE trims have seating for eight, with a stowable middle seat. The XSE, Limited and Platinum trims as well as some XLE trims, are configured with seven seats. The Limited and Platinum trims have "ottoman" foot rests for the second-row chairs.
The Limited and Platinum trims also get on-board vacuum systems and leather-trimmed upholstery, heated and ventilated front seats, premium 12-speaker audio system with navigation.
The top-of-line Platinum also gets 20-inch wheels, a standard console-mounted refrigerator compartment, a 10-inch color head-up display and a bird's eye view camera system
The sporty XSE version – sporty for a minivan, anyway – gets 20-inch wheels and an upgraded audio system with navigation.
Toyota said the 2021 Sienna goes on sale toward the end of 2020.
We expect pricing to start in the low $30,000s and to top out in excess of $50,000.