With Redesign and Hybrid-Only Strategy, Sienna Moves Into Top Tier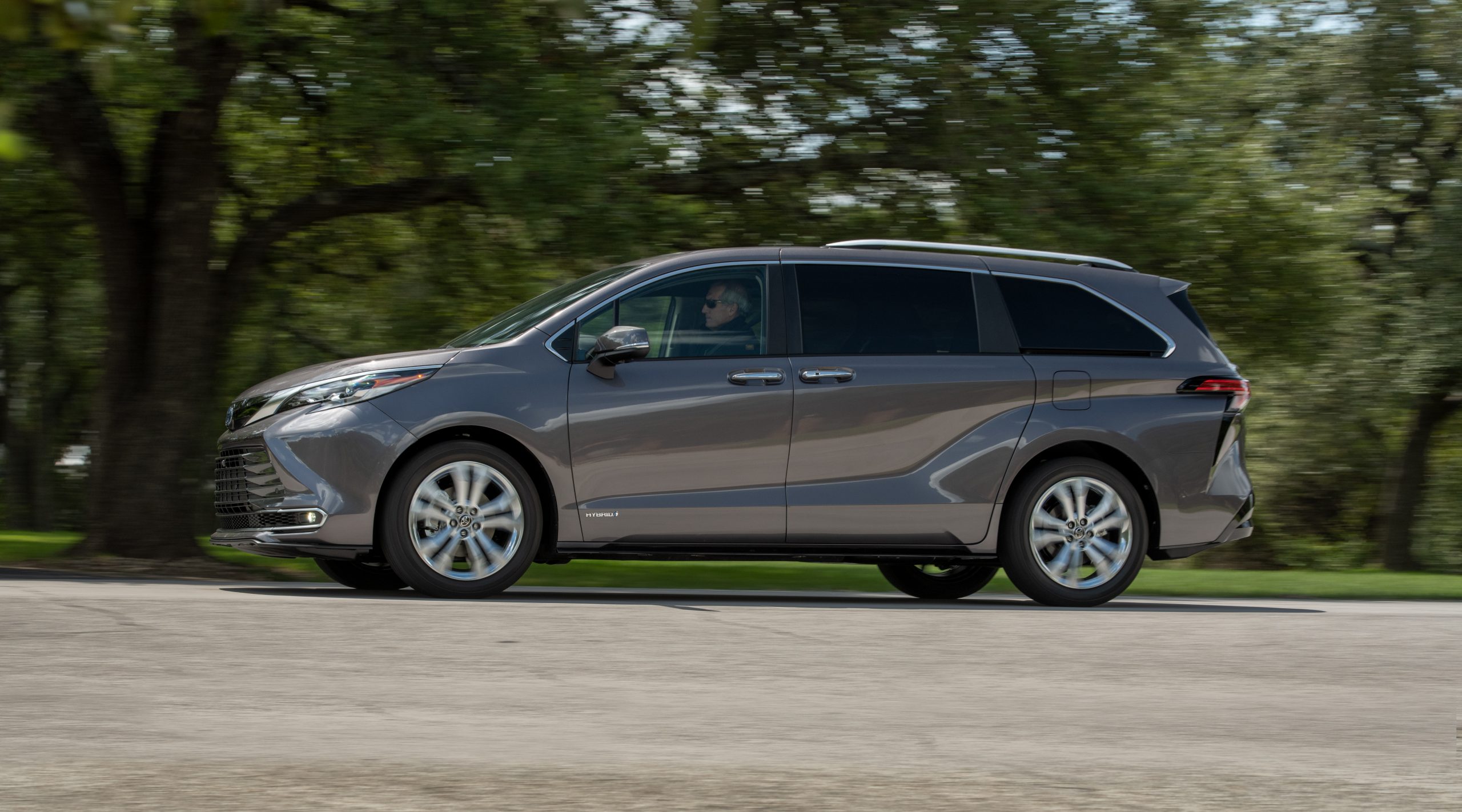 Toyota wants you to look at its designed 2021 Sienna and see more sporty SUV than staid old minivan.
That goal probably isn't attainable. It is difficult to camouflage a minivan.
[A 13-minute read.]
But the designers and engineers who developed the new Sienna came as close as one could realistically expect when, in the end, you must still must end up with a family hauler.
All in all, most people will be pleasantly surprised by the look – and driveability – of Toyota's minivan as it prepares to enter its 24th year in the market.
Since that first one in late 1997, nearly 2 million Siennas have been sold across the country. The 2021 models inaugurate the Sienna's fourth generation and its first complete re-do in a decade.
Age, changing tastes and the Covid-9 dampening of family highway travel all have combined to slow Sienna sales in the last few years. But with a corporate intent to remain in a segment many other automakers have abandoned, Toyota pulled out the stops to make its 2021 Sienna a minivan that could reignite consumer interest.
To that end, it is longer, lower (but taller inside!) and wider than its predecessors. While undoubtedly a minivan, it has a distinct look now, with hints of SUV particularly in a nose inspired by the Shinkansen bullet train and in the muscular rear haunches borrowed from the Toyota Highlander.
It is a probably a like it or loathe it look for many, and the likes (and willing-to-tolerates) will likely account for the vast majority.
The Sienna's available electronic all-wheel drive system – you can get it on each of the five trim levels – might help convert some SUV drivers, and certainly won't hurt Sienna sales in wet and snowy territory. The only other AWD minivans are the top two trims in the Chrysler Pacifica (non-hybrid) lineup.
On the road, the new Sienna's ride and handling are more reminiscent of an Avalon sedan – with which it shares a platform – than of the soccer team hauler that made many loathe to ever put a minivan on their shopping lists.
Bummer alerts:
The second-row seats are no longer removable. That slashes maximum cargo space by almost a third – to 106.9 cubic feet from last year's 150 cu. ft. For most that won't be a problem. The principal reason for a minivan is to carry people, and Toyota lavished attention on that task. And there's still a hefty 75 cubic feet of cargo room with the third row seating stowed flat and the second row seats in use. But the diminished maximum could be a sales killer for people who use a minivan chiefly as a cargo hauler.
Almost half a decade after the feature was first introduced for a minivan, the Sienna is finally slated to get an on-board vacuum system – as standard equipment in the top two trims. And the top trim also is slated to get a standard 1.1 cubic foot refrigerator/freezer compartment. But Toyota recently announced that both features will be delayed, indefinitely, because of a supplier issue.
A real spare tire is a $75 option that also costs you some rear fender-well storage space and one rear cup holder.
Efficiency Champ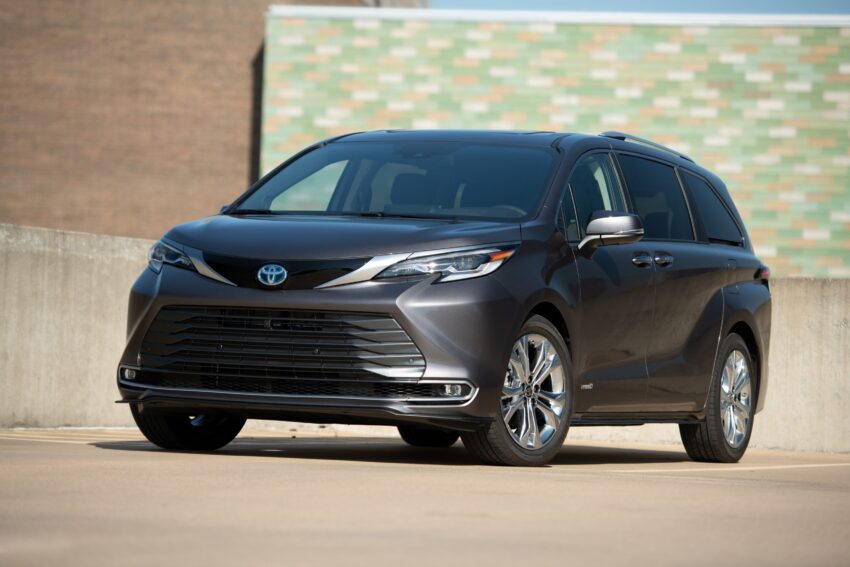 Leading the plus column for the 2021 Sienna is its efficiency. It does something most other minivans can't – deliver amazing fuel economy.
All five trim levels for 2021 come only with hybrid gas-electric powertrains and Toyota says the EPA estimate for combined city-highway driving should come in at 36 mpg for the front-wheel drive models and 35 mpg for those with the optional all-wheel drive.
That's the best in the segment, more than 60 percent better than other gas-only minivans and 20 percent better than the Chrysler Pacifica Hybrid PHEV when it is running in conventional hybrid mode after its plug-in battery is depleted.
It's been said, and bears repeating, that most SUV (crossover, really) drivers would probably be better off with a minivan.
True, they aren't very good on a rock-strewn off-road trail, but a woefully small percentage of SUVs and their sedan-based crossover cousins ever leave the tarmac, either. What minivans do offer is roominess, lots of seats, and a good deal of people and cargo-carrying practicality in package that can be downright luxurious and, if not fun or thrilling, at least a real pleasure to drive.
The 2021 Sienna hits all those marks and adds a dash of sportiness with its exterior design.
It shares its platform with the Avalon and Camry sedans and the new RAV4, Highlander and Venza crossovers.
Its hybrid system is a slightly modified version of the 2.5-liter gas engine, dual electric motor system used for the Highlander and RAV4 hybrids.
The gas-electric system is tuned to develop a peak 245 horsepower, with up to 186 ponies coming from the internal compustion engine. That sounds like a lot less than the V6-powered 2020 Sienna's 296 horespower, but the way it is measured narrows the gap considerably.
The new Sienna's power is measured at the wheels, while the previous model was measured at the flywheel – before the losses that occur as power is transmitted through the transmission and drive shafts.
The 2021 Sienna is as quick to 60 mpg as the 2020 model– thanks to the hybrid system's instant electric torque – and it is tow-rated at the same 3,500 pounds as last year's version.
It has seating for seven or – in the lower trims – eight, and behind those seats is a sizeable cargo bay.
With the third-row seats stowed away and the non-removable second-row seats pushed forward the Sienna can even haul a few 4×8 sheets of plywood – although they have to lean on the second-row seat backs and can't lie flat on the floor.
On the Road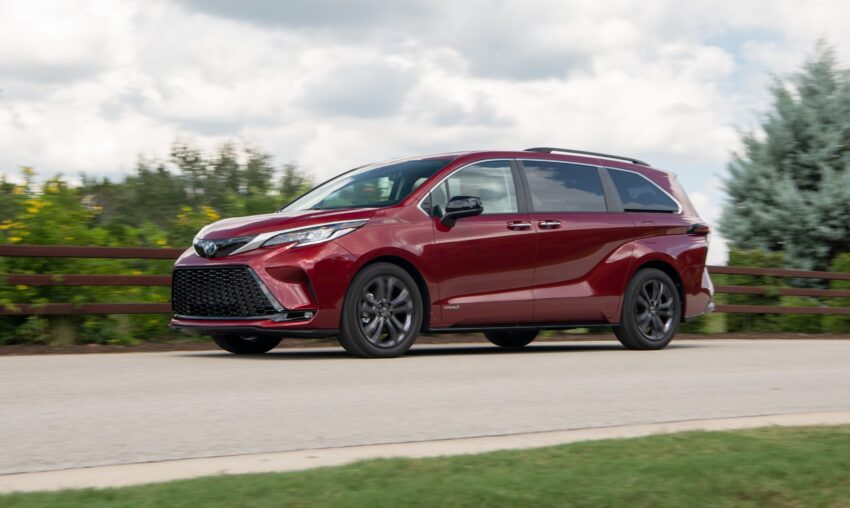 We had a pre-production version of the top-of-the-line Sienna Platinum for a day recently and put about 200 miles on it with a typical Southern California day trip – from Orange County, down to La Jolla and back.
The first leg was through a favorite set of twisties in the low OC foothills, and the Sienna handled and rode remarkably well.
Steering was compliant if a bit numb, braking was responsive with none of the mushiness that sometimes occurs when a hybrid transitions from regenerative braking to the mechanical brakes. There was some body roll when the Siena was pushed hard around tight curves, but nothing too bothersome. The suspension handled the bumpy country road just fine.
On the downside, the four-cylinder engine has to work to do its stuff and it makes itself known when the accelerator is mashed. It's especially noisy, despite the Sienna's excellent sound attenuation, when climbing hills, passing and accelerating to get onto the freeway.
On the freeway, the Sienna was smooth and comfortable and seemed to want to cruise at about 75 mpg. The big captain's chairs are supportive, and the cabin layout – from cup holder and storage compartment placement to instrument panel and infotainment center orientation – is a driver's delight.
Our fuel efficiency for the entire trip as recorded by the Sienna's on-board computer was 33 mpg.
A series of driver selectable modes lets you adjust pedal response and a few other features to alternatively save fuel or increase sportiness.
EV mode locks things into all-electric drive at very low speeds for short distances when the battery is sufficiently charged. Eco mode dampens accelerator pedal response and adjusts the climate control to maximize battery charge. Normal is, well, normal. And Sport increases pedal response for quicker acceleration.
We drive most of the trip in Sport, which undoubtedly cost a us few mpg.
Inside
The Sienna's redesigned interior is clean and uncluttered, with loads of places to put stuff.
The center console bridges the space between driver and front passenger, and there's a very large flat storage area – for purses, laptops and the like – underneath.
The console itself houses four (!) cup holders and a covered bin, as well as a real shift lever surrounded by switches to engage parking brake and various driving modes. A small shelf runs along the bottom edge of the dash, from the console almost to the passenger-side doo , providing storage for small items such as pens and glasses, as well as space for the wireless charging pad that's standard on the Platinum and optional on other trims.
There are actual knobs, switches and dials to help operate the audio and climate control systems and to facilitate jumping around the various features of the infotainment system, which comes standard with a 9-inch touchscreen on the first four trims and jumps to a big 10-incher on the Platinum.
Scattered throughout are a total of 16 cup holders (15 with the optional spare tire) and seven USB ports.
The Sienna's hybrid system uses a 1.9 kWh battery pack to feed juice to the electric drive motor, and Toyota's engineers designed it to fit beneath the front seats so it doesn't encroach on passenger legroom or on cargo space.
Like its competitors (more about them follows), the Sienna has three rows of seating. The base LX model has three seats in the second and third rows in both front-wheel and all-wheel drive configurations. The next level XLE has eight seats in front-wheel drive configuration and seven in all-wheel drive; all other trims have seating for seven.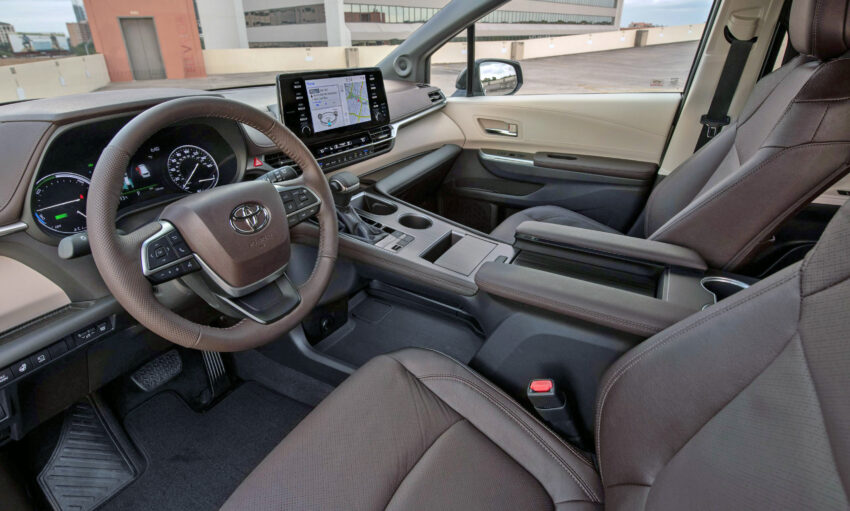 In the LE trim and front-wheel drive version of the XLE, those second-row seats operate on a slide system that allows for 10 inches of travel when the seats are occupied and up to 21 inches when it's time to fold the seats up and slid them forward for access to the third row or to increase cargo area. The second-row bench seat's center position stows away to convert it to a two-seat bench.
In all other trims, Toyota fitted the Sienna's second row with a pair of captain's chairs on "super-long" slides that allow up to 25 inches of front to rear movement. That enables second-row passengers to really stretch out and makes rear seat access a bit easier than in the base model.
In the front wheel drive versions of the top two trims, the second-row seats are equipped with an adjustable foot- and lower-leg rest . When fully reclined with that ottoman in place, they are about as comfortable a resting spot as an airliner's business class seats.
The 60/40 split third row seats fold away into a rear well. They don't make a completely flat floor when stowed, however, and some may find the "One Motion" lift-and-fold stowing system a bit awkward at first.
2021 Sienna Trims and Equipment
The Sienna is well equipped even in the lowest of its five trim levels. The base LX gets you 17 inch alloys; a six-speaker audio system with Apply CarPlay and Android Auto compatibility; a 9-inch touchscreen infotainment center; power side doors and liftgate; three-zone climate control; fabric upholstery and a power adjustable driver seat.
Step up to the LXE and you add an 8-speaker Audio Plus system, the 25-inch super slid seat system in the second row; Toyota's SofTex faux leather upholstery; a power adjustable passenger seat; power moonroof; LED fog lamps; four-zone climate control, and a hands-free tailgate.
The sporty XSE trim adds sport tuned steering and suspension; 20-inch wheels for the front-wheel drive version and 18-inchers for all-wheel-drive; a black mesh grille and lower rear bumper, and Toyota's Premium Audio system with eight speakers and built-in navigation.
The Limited trim adds roof rails; navigation; a 12 speaker JBL audio system; Qi wireless charging; a 7-inch driver info screen; power tilt and telescoping steering column; leather upholstery with heated and ventilated front seats; the vacuum when it becomes available, and second-row ottomans for front-wheel drive versions.
At the top of the food chain, the Sienna Platinum adds rain-sensing wipers; LED projector beam headlights; a bird's-eye view camera, a trim-level unique "Noble Brown" interior color scheme; a 10-inch infotainment screen, a 10-inch head-up display, and, for models coming later, that refrigerator.
All Siennas come standard with blind spot monitoring, rear cross traffic alert and automatic high beams, plus Toyota's Safety Sense 2.0 suite of driver assistance systems.
Available options can run prices up pretty quickly, but include a few nifty features – not available on the base LE – including the indispensable-to-some rear seat entertainment system, for $1,415, and a 1500-watt AC inverter with two outlets – $300 – so you can microwave lunch or run a table saw.
A special package for the LE ads features such as roof rails, sunroof and upgraded audio. An XLE package adds; roof rails, wireless charging and upgraded audio with navigation, and an XSE package adds the same – less navigation because that's standard on the XSE trim.
Pricing
The 2021 Sienna LE with front-wheel drive starts at $35,635 – same as the non-hybrid 2020 LE. Last year's base model, the L, has been dropped. Adding all-wheel drive boosts the new LE to $37,635.
The XLE trim starts at $40,925, jumping to $42,925 with all-wheel drive. XSE pricing begins at $43,173 and AWD adds $760 for a $43,935 starting price.
The feature-packed Limited begins at $47,875 an jumps to $49,675 with AWD, while the Premium trim starts at $51,075 and bumps up to $51,635 with AWD.
All those prices include Toyota's $1,175 destination fee.
In comparison, the Honda Odyssey, probably the Sienna's top rival, starts at $32,190 and tops out at $49,940 before any options are added.
The Chrysler Pacifica starts at $$36,540 with the top trim beginning at $52,290.  Pacifica Hybrids start at $41,490 and top out at $52,340. The Chrysler Voyager, a more sparsely equipped version of the Pacifica available in just two trims, starts at $28,670 and tops out at $31,480.
Another potential competitor, Kia's aging Sedona – due for a total redesign for 2022 – starts at $28,720 and runs, before options, to $42,620.
Let's Compare Some More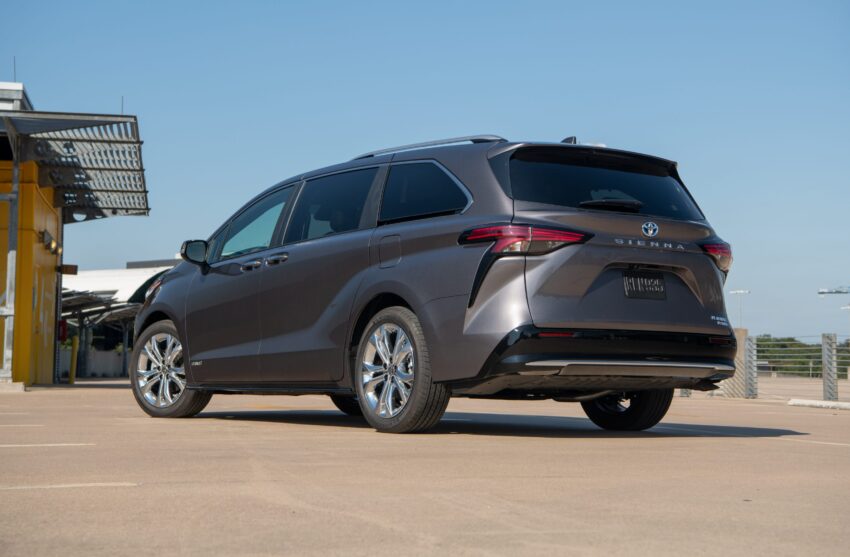 Speedy Sienna
All of the 2021 Sienna's competitors have higher horsepower, but that doesn't seem to hurt.
We haven't clocked them on our own. But 0-60 times posted by several other reviewers put the new Sienna in first place with times ranging from 6.4 to 6.9 seconds. The Odyssey follows with a range of 6.5 to 7.0 seconds; the Sedona and standard Pacifica are tied with a range of 7.4 to 7.9 seconds and the Pacific Hybrid trails the pack with a range of 8.0 to 8.5 seconds.
Fuel Economy
The 2021 Sienna outdoes all but the Pacifica Hybrid in fuel efficiency – and if a Pacifica PHEV's owner forgets to plug in overnight and uses it only as a conventional hybrid, it falls behind the new Sienna's 36 mpg rating.
The Pacific Hybrid comes in at 30 mpg combined once its all-electric range is exhausted, and the standard Pacifica gets a 22-mpg combined rating . The Odyssey is rated at 28 mpg combined and the 2021 Sedona is rated at 24 mpg.
Size
All four minivans are fairly close in length, width and height, coming it a just under 17 feet long, 6.5 feet wide and 5.7 feet tall.
The 2021 Sienna is just a smidge shorter than the Pacifica and a couple of smidges longer than the Odyssey. The Sedona is a full two inches shorter than the competition. The Chrysler minivan is an inch wider than the Odyssey and Sienna, an inch-and-a-half wider than the Sedona.
Roominess
The Sienna is middle of the pack – tied with the Pacifica – for first-row head and leg room. It drops to fourth place in second- and third-row head room. It also lags most of the pack in second-row leg room.
In the third row – often reserved for very small children or people whose discomfort makes you smile – the Sienna takes a giant leap forward in leg room to best the others – by almost four inches compared to the Sedona.
By the numbers, in inches, here's how they stack up (1st row/2nd row/3rd row), with segment leading numbers in bold:
Head room –
Odyssey, 40.7/39.5/38.3;
Pacifica, 40.1/39.6/38.7;
Sienna, 40.1/39.3/37.4;
Sedona, 39.8/39.4/38.9
Leg room –
Pacifica, 41.1/39.0/36/5;
Odyssey, 40.9/41.9/38.1;
Sedona, 40.9/41/1/34.8;
Sienna, 40.3/39.9/38.7.
Cargo and Towing
In cargo capacity, the Sedona has a slight edge when all three rows of seats are in use, with a rear cargo hold of 33.9 cubic feet, versus the Sienna's 33.5 cu. ft., the Odyssey's 32.8 cu. ft. and the Pacifica's 32.3 cubes.
But with all the seats folded away, the Sienna trails the pack with 106.9 cubic of load carrying capacity versus 144.9 cu. ft. for the Odyssey, 142 cubes for the Sedona and 140.5 cu. ft. for the Pacifica and Pacifica Hybrid. The Sienna's row two seats aren't removable, unlike the competitions', because they contain side-mounted airbags. Despite the diminshed maximum, the 2021 Sienna can still carry several full sheets of plywood inside – but not flat on the floor as before. Now they must be propped at an angle against the tops of the row two seats.
The standard Pacifica leads the pack in towing capacity at 3,600 pounds. The Pacifica Hybrid isn't rated for towing and the Sienna, Odyssey and Sedona all are rated at 3,500 pounds.
The Pacifica also has the edge in total passenger compartment volume, at 165 cu. ft. to the Odyssey's 163.6 cu. ft., the Sienna's 162.5 cu. ft. and the Sedona's 160.9 cu. ft.
Safety
On the safety equipment front, the Sienna comes standard with a hefty suite of driver assistance tools including automatic emergency braking, full-range adaptive cruise control, lane departure warning and lane keeping assist, blind spot monitoring with rear cross traffic alert, and automatic high beams. All but the base LE also get front and rear parking asist with automatic braking
That's also the standard package for the Pacifica while you'll have to get the more expensive of the Odyssey and Sedona trims to get the full list.
Final Thoughts
I'm not a minivan person, but time spent in a well-done example makes me see their virtues.
The new Sienna is such an example. Its redesign elevates the Sienna into the top tier of the minivan segment.
It is easy to drive, comfortable, loaded with tech even in the lower trim levels, has plenty of space for people and/or stuff, won't make you wish you had a bag to throw over it when you park in your driveway and, with its Toyota-proven hybrid system, will save you quite a few bucks in fuel costs over the years.
If a minivan is – or could be – on your shopping list, you'll do yourself a favor by making sure one of your test drives is in a 2021 Sienna.
All photos courtesy of Toyota.