Fiat Chrysler Automobiles, which long has seemed downright antagonistic to the idea of electrified vehicles, looks to be turning a corner with word that an electric Ram pickup is in the planning stages.
(A 3-min., 30-sec. read)
It's unclear whether it will be all-electric or a plug-in hybrid, but it will be, said FCA's chief executive, Mike Manley.
"There will be an electrified Ram pickup in the marketplace," Manley told investors during the company's recent third-quarter earnings call.
He didn't say when, asking instead that people "just stay tuned for a little while."
FCA needs an electric pickup if it hopes to stay competitive with rivals Ford and General Motors. Both are developing their own EV pickups.
Tesla and several startups also are hitting the market soon with all-electric pickups and SUVs whose early stats promise horsepower and torque that rival any of the gas models the Big Three field.
It was interesting that Manley used the term "electrified" instead of "electric" when referring to the upcoming plug-in Ram truck.
"Electrified" is all-encompassing and can include standard hybrids and plug-in hybrids as well as fully electric (battery-powered) vehicles.
It also could refer to fuel-cell electric powerplants, and once upon a long time ago, in a former corporate life, the company that now is FCA was a U.S. auto industry leader in fuel-cell research. The old Chrysler Corp., later to be Daimler-Chrysler, was one of the first to actively test fuel-cell powered cars and vans on the open road.
We imagine, though, that Manley was referring to either a plug-in hybrid or battery-electric Ram truck.
The company does have experience now with PHEVs – a plug-in hybrid version of the Jeep Wrangler is coming around the end of the year or early in 2021.
Nikola News
Nikola Motors says it is still in discussion with General Motors over a deal for GM to build Nikola's Badger electric pickup.
You might recall that talks between the two went into overtime after a short-selling research firm published a scathing attack on the integrity of Nikola's founder. The September report claimed that Nikola was riding high on fraudulent and inflated performance claims.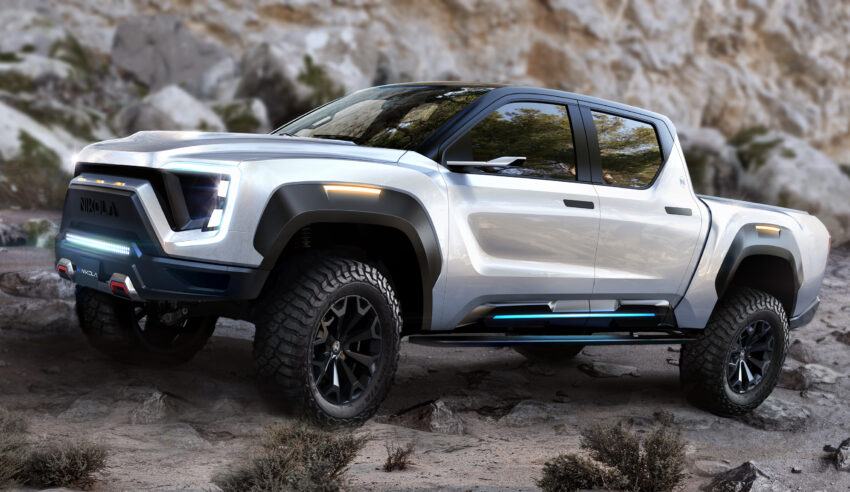 Company founder Trevor Milton denied the allegations but resigned shortly after, saying he didn't want to be a distraction as the company gears up for production.
Nikola's management issued an 'all is well' statement Sept. 30 maintaining that everything the company has in the works remained on schedule. That includes Nikola's fuel cell and battery electric commercial trucks, the Badger, development of a national network of hydrogen refueling stations with EV charging as well, and even an electric off-road vehicle and an electric personal watercraft.
This week, Nikola issued its third-quarter financials, posting a $117 million loss – not unusual for a start-up with no sales – but reporting as well that it has $908 million in cash on hand.
Progress continues as planned on factories in the U.S. and Europe, the company said, and the deal with GM, while not consummated, is still alive with both sides at the negotiating table.
As We've Said…
Consumer Reports ha discovered what many in the EV community have long held to be true: mainstream EVs and PHEVs priced under $50,000 are almost always money savers versus gas-only vehicles of the same size and equipment levels.
The Consumer Reports study, issued at the end of October, compared a number of top-selling battery-electric and plug-in hybrid vehicles to three classes of gas-only vehicles: the top selling models, the most efficient models and the models that Consumer Reports has rated as tops in efficiency and reliability.
The short version is that the study found that the combination of fuel and maintenance savings and federal, state and local incentives will more than make up for the electrified vehicles' higher purchase prices over the life of the vehicle. The typical lifetime savings ranged from $6,000 to $10,000. The Tesla Model 3 came it at $15,000 cheaper to buy and own than a BMW 330i or Audi A4.
The report also claims that, on average, EVs with more than 200 miles of range are likely to hold their resale values as well as – or even better than – competing gas cars and trucks.
You can read the whole report here. Or, if that's too much, peruse a short fact sheet here.