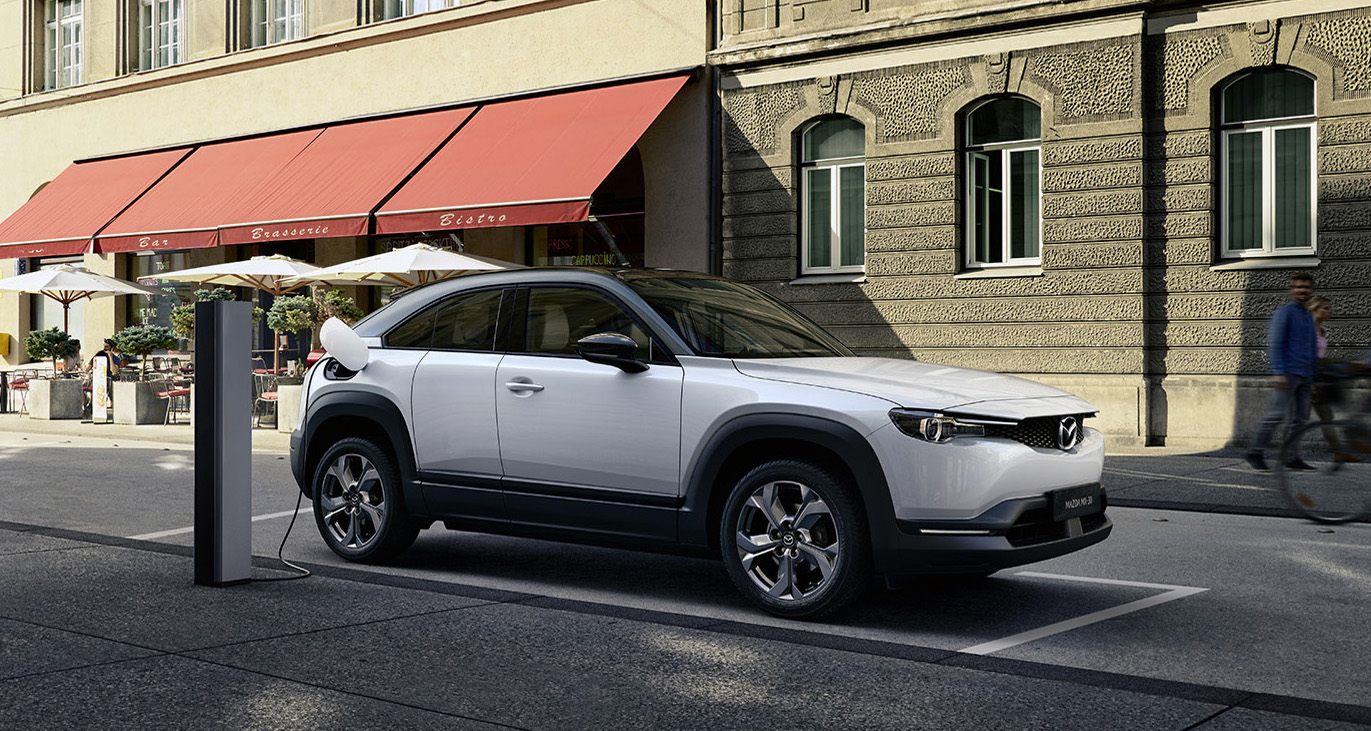 Mazda's first all-electric vehicle will offer the shotest range of any new EV on the market. But to help offset that and possibly win over a few buyers, Mazda has priced the 5-seat MX-30 EV to be one of the least expensive all-electric crossovers in the market.
The automaker said that it estimates the small crossover will have an EPA range rating of just 100 miles per charge. That's not even as good as the 2022 Mini Electric, which delivers an estimated 114 miles of range and had held the "worst range" honors until the larger but less powerful Mazda came along.
[A 3-min., 45-sec. read.]
A range-extended version is due in the 2023 model year. It reportedly will use a rotary engine as a generator to provide power for the electric motor after the initial battery charge is depleted. So far we've not seen any estimates of how far that version might travel on a fully charged battery and a tank of gas.
Meantime, the 2022 Mazda MX-30 EV is due in dealerships in October – but only in California at first – and will start at $34,645 including Mazda's mandatory $1,175 destination charge.
A federal tax credit of up to $7,500 lowers the real cost for most buyers to just $27,145. State and local incentives, where available, can lower the cost even more. Of course, that same federal incentive applies to almost all other EVs in the market (only new GM and Tesla models no longer qualify).
The 2022 MX-30's Premium Plus trim with added advanced driver assistance and safety technology and upgraded interior appointments will start at $37,655 before incentives.
Lower Priced, Longer Range Competitors
There are only three other EVs available in California – and in places the MX-30 won't be for a bit – with lower base prices than the 2022 Mazda MX-30: The Mini Electric at $30,70; the 149-mile Nissan Leaf, $32,525, and the 170-mile Hyundai Ioniq Electric sedan, $34,020. None share the Mazda's SUV-like styling.
The 259-mile Chevrolet Bolt (presently not on sale because of a safety recall) can't beat the base MX-30 EV, but at $37,495 is slightly less than the MX-30 Premium Plus.
But Wait…There's More!
Pricing for the crossover includes a $500 charging credit that can be applied to the purchase of an in-home, 240-volt charger from ChargePoint, or used to pay for charging on the ChargePoint public charging network.
Also included in the pricing is use of other Mazda vehicles for up to 10 days a year for the first three years of MX-30 ownership.
Mazda is positioning the MX30 as a daily commuter "designed to meet the needs of most urban residents." Urbanites, presumably, who use trains, fly, take the bus or have other cars or trucks at their disposal when it's time to get out of the city.
Powertrain and Charging
The MX-30 EV will use a 143-horsepower "Skyactiv EV" system that generates 200 pound-feet of torque. It is a front-wheel drive layout using a single, front-mounted electric motor, single-speed transmission and a 35.5 kilowatt-hour battery pack mounted under the floor.
Mazda says the MX-30 EV was designed and the chassis, suspension and steering tuned to deliver the traditional Mazda driving experience. It even has an "EV sound" system generating audible tones that synchronize – much as does a gasoline engine's growl – with motor performance.
Electronic torque adjustments will help control vehicle load for improved handling.
The battery can be charged in just under three hours on a 240-volt, Level 2 system and for top-ups on road trips can be replenished to 80 percent of capacity in just under 40 minutes on a Level 3 DC fast charger.
Trims and Features
Mazda hasn't released full specs yet, but says that standard features on the base MX 30 EV will include 18-inch alloys, heated front seats, power-adjustable driver seat, cloth upholstery, leather-wrapped steering wheel and shift knob, heated and power-folding exterior side mirrors with integrated signal lamps and a memory system. The infotainment system will use an 8.8-inch color touchscreen and be Apple CarPlay and android Auto compatible.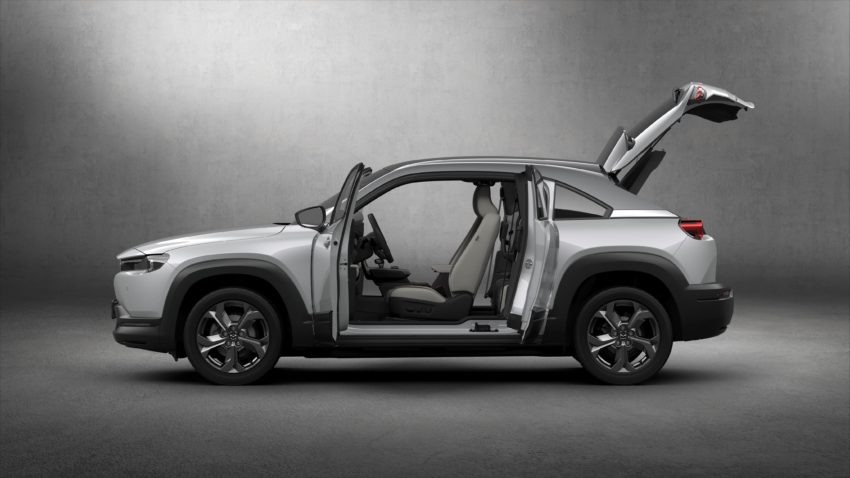 Safety and driver assist features on the base MX-30 include radar-based active cruise control ill stop-and-go capability, blind spot monitoring, lane keeping assist, lane departure warning, front collision mitigation with automatic braking, rear parking sensors and rear cross traffic alert with automatic braking.
The 2022 Mazda MX-30 Premium Plus adds faux leather upholstery trim, a bright silver finish on Sjithe wheels, an upgraded 12-speaker Bose audio system, heated steering wheel, keyless entry and a HomeLink system integrated into the auto-dimming rearview mirror.
Standard safety and driver assist systems on the Premium Plus include steering assist to keep the vehicle in its lane if the driver attempts to make a lane change when the blind spot monitor has detected another vehicle, and a front cross traffic alert that activates at speeds below 6 miles an hour if a vehicle is approaching from either side at speeds in excess of 3 mph.
Available for the Premium Plus are trio of two-tone exterior color schemes, each at an $895 premium.