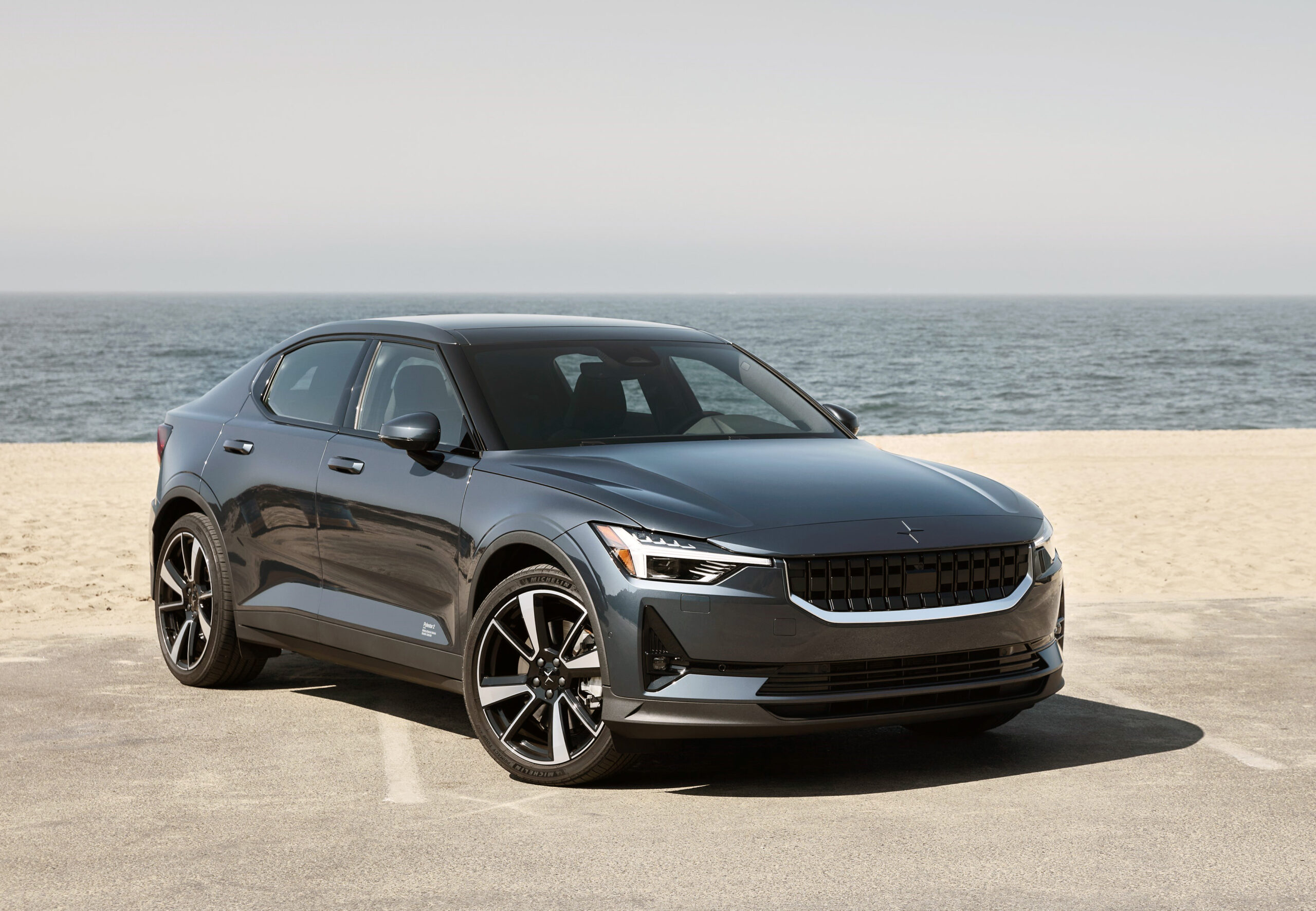 When Volvo decided to turn its race-tuning arm into stand-alone maker of electrified vehicles, the first model out of the Polestar factory was a little disappointing.
Not as a car: The 2019-2021 Polestar 1 is a limited production, plug-in hybrid GT coupe with a carbon fiber body, turbocharged and supercharged gas engine, two electric motors, 619 horsepower and tractor-like torque. Nothing disappointing about all that.
But with its six-figure price tag, limited availability (only 1,500 to be made, with production ending this year) and PHEV powertrain, it is not a car that will appreciably broaden the availability or popularity of EVs.
The all-electric 2021 Polestar 2, on the other hand, should do both things quite well. The Polestar 2 Launch Edition is a tech-laden, all-wheel drive, five-seat hatchback EV with lot of power, great handling and performance, a sparse but striking interior and a subdued but attractive sporty hatchback exterior design.
Its safety and driver assist systems and Google-powered on-board infotainment system – an industry first – are top-of-class. And in both straight-line and twisty road performance, the Polestar 2 does well even against the most powerful versions of the Tesla Model 3 and Ford Mustang Mach-E.
It's not cheap. Starting price for the all-wheel drive Launch Edition, the only model available in this inaugural year, is $61,200 before incentives. The federal tax credit of up to $7,500 can knock that cost down a bit, but even at an incentive-adjusted $53,700, the Polestar 2 Launch Edition is about $4,200 more than an AWD Tesla Model 3 Long Range and $2,000 more than a similarly equipped AWD Mach-E Premium.
The Polestar 2 also suffers in range comparisons. It is EPA-rated at 233 miles of range, versus the Model 3 Long Range's 353 miles (315 for the Model 3 Performance trim) and the AWD, extended-range Mustang Mach-E's 270 miles (230 miles with the standard range battery.)
Because its parent is Volvo and it uses some Volvo components, there's a temptation to slot the Polestar 2 it into the luxury small EV class with the likes of the Jaguar i-Pace, Audi e-tron GT or even the upcoming Volvo C40 Recharge.
But it falls short of true luxury car status. That's intentional. When Volvo and its corporate parent, China's Geely Motors, decided to do an all-electrics spinoff under the Polestar brand, they decided that luxury would be left to Volvo and its own line of electrified cars and crossovers. Polestar, instead, would be the sporty, performance-oriented brand.
With its first pure EV, Polestar is doing its assigned job well.
At a Mall Near You, Maybe…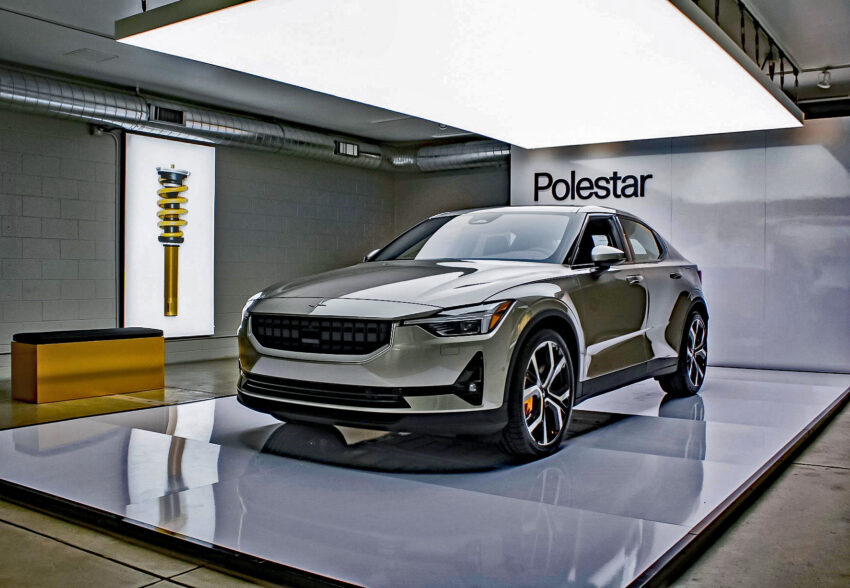 Polestar has copied Tesla's shopping-mall showroom, on-line ordering and centralized service center systems, so shoppers can look at the car on-line then schedule a test drive at one of the still-scarce Polestar Space showrooms or order a home-delivered test car.
The 2021 Polestar 2 available in all 50 states, but so far the only Polestar showrooms are three in California and one each in Arizona, Colorado, Massachusetts, Minnesota, Michigan, New Jersey, New York, Texas and Washington. Still to come this year are additional spaces for California, New Jersey and Texas and a new one in North Carolina. Polestar said nine additional but as yet unspecified spaces will bring the total to 25 by the end of 2021.
What servicing the EV needs will be done by a variety of contractors including some Volvo dealers.
Trims and Pricing
For 2021, Polestar offers the "2" in only the fully loaded, dual-motor, all-wheel drive Launch Edition, starting at $61,200 before incentives, with a $5,000 Performance package option and optional leather seats for $4,000.
Long- and short-range single motor and AWD versions, at substantially lower starting prices, are expected to round out the line for the 2022 model year
Standard equipment on the 2021 Polestar 2 Launch Edition includes 19-inch alloy wheels; adaptive LED headlights; keyless, switchless ignition; dual-zone climate control with rear seating vents; heated front and rear seats; heated steering wheel; hands-free liftgate; panoramic glass roof; premium audio; navigation; wireless phone charger and a full suite of safety and driver assistance systems including automated parking.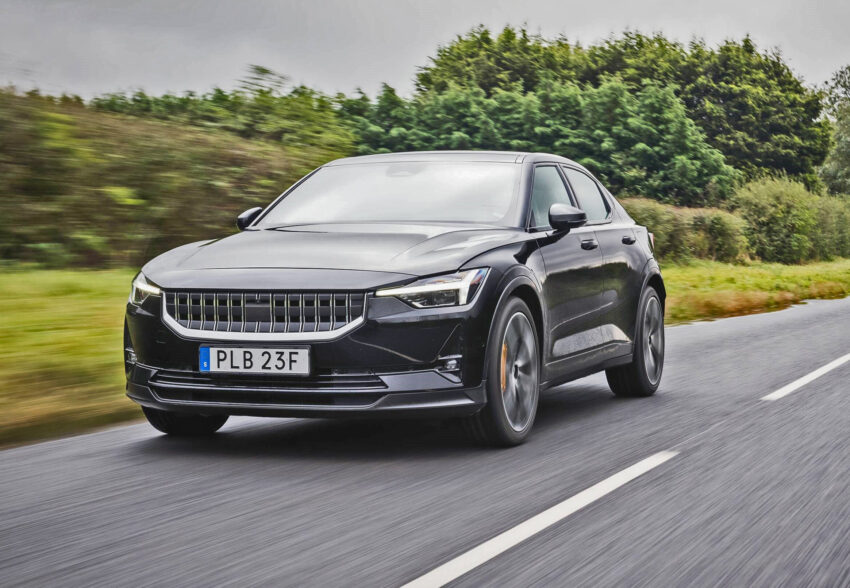 There's no ignition switch or "start" button because, like the Volkswagen ID.4, the Polestar 2 has sensors that switch everything on when a fob-carrying driver's seat is planted in the driver seat. And everything shuts down when the driver departs.
A Performance package adds manually adjustable Öhlins dampers, Brembo front brakes with gold-colored calipers; beefed-up suspension; 20-inch alloys with Polestar-specific rubber, and gold-colored seat belts.
Ventilated Nappa leather upholstery and the 20-inch alloys each can be had as stand-alone options.
2021 Polestar Performance
The 2021 Polestar 2 Launch Edition is an all-wheel drive model using separate motors for the front and rear wheels. Each motor is rated at 204 horsepower, for a total of 408 hp and 487 pound-feet of torque.
Polestar says the Launch Edition will run a 0-60 mph spring in 4.5 seconds. We didn't run our own calibrated test, but seat-of-pants says that time is pretty accurate. Several buff books have recorded times as low as 4.1 seconds. That's faster than most anything in the class.
The dual-motor Tesla Model 3 Long Range's claimed 0-60 time is 4.2 seconds while in the Mustang Mach-E lineup only the 480-horsepower GT and GT Performance trims are quicker, at 3.8 and 3.5 seconds respectively.
The Polestar 2 sends its power to the wheels through a single-speed transmission. Top speed is limited at 127 mph.
The Polestar 2 isn't just a screamer in straight line acceleration – power that's valuable for highway passing, mountain climbing or, sometimes, saying "bye-bye" the show-off driver in the modern muscle car who keeps tailgating). It also is a class-leading road car, with adjustable steering, superb suspension even without the power pack's Öhlins shocks, and a low-center of gravity that keeps it glued to the road through even the tightest twisties.
A sport setting shuts down traction control for those who like to let it all hang out, and the firmest of the three steering settings gives track car immediacy to the Polestar's responsiveness.
Braking is smooth and linear and stopping is quick when it needs to be. Three regenerative braking settings are available and the highest level delivers one of the industry's best one-pedal driving experiences.
Inside
In the cabin, the Polestar 2 maximizes on minimalism but still offers a surprisingly comfortable and well-balanced cockpit. Most functions are controlled via the 11.3-inch infotainment screen, and there aren't many knobs or switches – not even a "start" button –  except for the usual steering wheel mounted controls for audio, cruise control and info displays. A 12.3-inch instrument cluster with multiple view options that include a widescreen navigation display provides all the information a driver needs while on the road.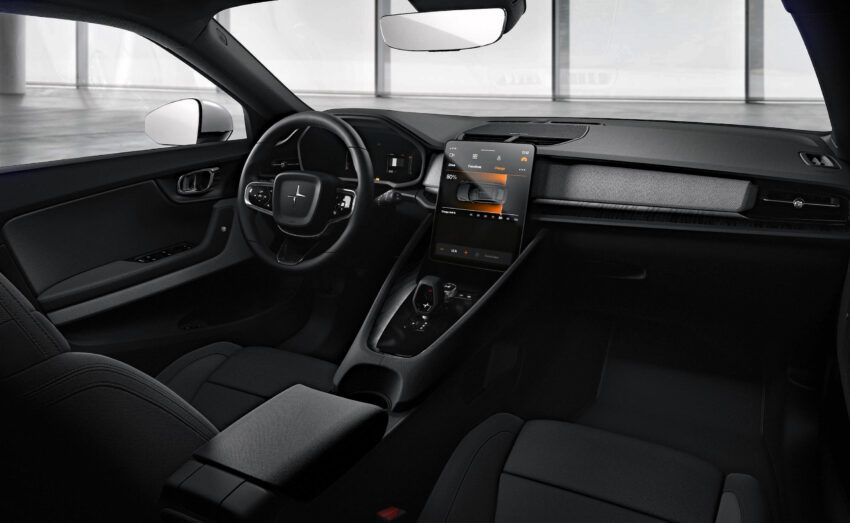 The Polestar 2's interior is quiet, with little in the way of road noise intrusion. The sporty suspension gives it a slightly stiff but comfortable ride on all but the most rutted and pot-holed roads. The power-adjustable front buckets are well-cushioned and very supportive, and the pull-out thigh support extensions that are standard equipment help even more.
Front legroom is plentiful. In the electric hatchback segment only the Chevrolet Bolt and Tesla Model 3 offer more offer more. The Volkswagen ID.4, Mach-E, Bolt and both Teslas offer more rear seat legroom, though. If you need to regularly haul a bunch of 6-footers for any distance at all, the Polestar 2 probably isn't for you. The rear seats themselves are comfortable but the rear seating area is really only good for two despite the Polestar 2's rating as a five-occupant car with two up front and three across in the back.
Forward and side visibility is good, but the Polestar 2's thick rear pillars and sharply slanting rear roofline made the Launch Edition's 360-degree surround view camera system a valued helper when backing up. The Launch Edition trim also has self-parking as a standard feature.
Nothing's Perfect
The Polestar 2 disappoints in the lack of interior nooks and cubbies for small item storage, the absence of USB-A ports and a weird design flaw that leaves only one of the two front cup holders actually usable. A section of the Polestar 2's battery pack occupies the space that would be a transmission tunnel s designers couldn't figure out how to get two functional cup holders into the center console, so one is visible and one is hidden beneath the center armrest. To access it, the armrest has to be flipped up, rendering it useless.
Hauling Stuff
Discount the paucity of cubbies and you'll find that the 14.3 cubic feet of cargo space behind the Polestar 2's rear seats is sufficient for most stuff. It will handle two or maybe three airline carry-ons. Drop the 60/40 split rear seat backs into their folded-flat position and cargo area swells to 37.5 cubic feet. There's also underfloor storage in the cargo bay as well as a small "frunk" compartment under the hood.
Cargo space measurements put the Polestar 2 dead last in its segment, but remember that the cubic footage includes the airspace in the cargo bay. That's space that's not safe to fill without a barrier from the roof down to the top of the back seats to keep stuff from crashing into the passenger compartment when the brakes go on. The Polestar 2 doesn't have a lot of airspace, so its cargo bay measurement is actually fairly competitive in terms of usable area.
When it isn't sufficient though, the dual motor Polestar 2 is rated to tow a 2,000-pounds. That in the middle of the small electric hatchback and crossover segments, where a number of vehicles, including the Mustang Mach-E, aren't rated for towing. The Tesla Model Y's 3,500-pound rating tops the segment.
2021 Polestar Range
The EPA rates the Polestar 2 Launch Edition at up to 233 miles of range. The only competitive car in the segment with less, at 211 miles, is the single-motor Mustang Mach-E.
In reality, 200 miles is plenty for most drivers most days. But it still takes 250 miles or more of claimed traveling distance to really start easing the range anxiety still prominent in much of the car-buying public. Even smaller, less expensive hatchback EVs, such as the Chevrolet Bolt and Hyundai Kona Electric, boast more range than the Polestar 2 Launch Edition. The 2022 model year's single-motor trim is expected to help address the situation with range estimates of 260 miles or so.
On a nearly 600-mile weekend drive recently, we found that real-world range in the Polestar 2 Launch Edition was pretty close to the EPA estimate averaged over the entire the entire trip. A lot of the distance was covered at fairly high freeway speeds on level ground, where the Polestar 2 pretty much delivered and at times bettered the EPA number. In mountainous terrain, however, range dropped quickly.
Its speedy fast-charge times are what make the Polestar 2 suitable for weekend getaways – although traveling much more than 300 miles in a day could get tedious because of the multiple charging stops that would be required
Time to Fill'er Up
The Polestar 2's power is stored in a 78-kilowatt-hour battery pack – 75 kWh of it is usable capacity, the rest serves as a buffer against premature degradation. The electric hatchback is equipped with DC fast-charge capability at up to 150 kilowatts, more power than most of today's DC fast-charge stations provide.
At that level, the Polestar 2 can recharge to 80 percent of capacity from 10 percent in under 40 minutes. Only Tesla's Model 3 and Model Y are significantly quicker.
We charged four times on our trip – twice on the way there, once at our destination and once on the 260-mile return home – and found that even on 50-kilowatt DC chargers the Polestar 2 Launch Edition's battery would go from 25 percent of capacity back up to 85 percent in under 30 minutes.
At home, the Polestar 2's 11-kilowatt on-board charger can replenish an empty battery in 8 hours on properly sized Level 2 (240-volt) charging equipment. That's par for the course.
Infotainment and Connectivity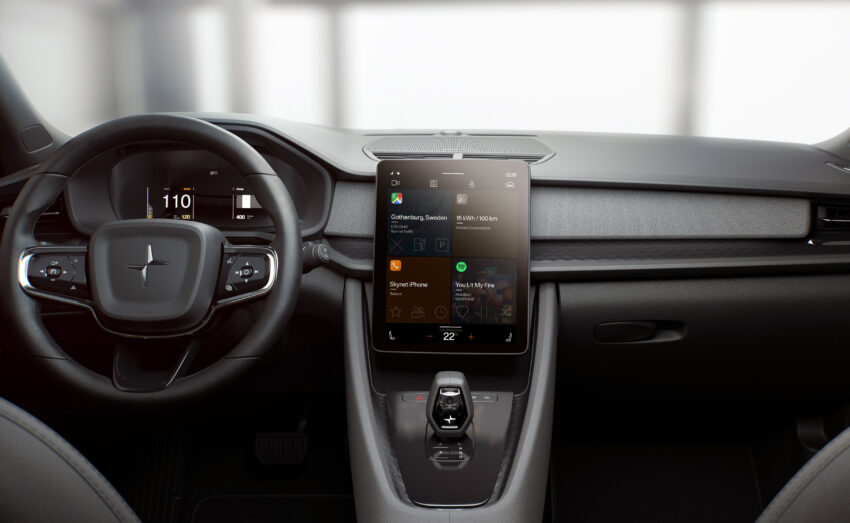 The Polestar 2 is the first production car in the U.S. to use the Google Android Automotive operating system for its infotainment center. It's quite easy to use, allows for the downloading of a wide variety of applications and is happy to work with Bluetooth-connected iPhones. Apple CarPlay and satellite radio compatibility are coming in late 2021 via an over-the-air update.
There are four USB-C ports, two each front and back, but no provisions for older USB-A connectors. A 120-volt socket in the cargo area can be used with an adapter for charging older smartphones and other equipment dependent on USB-A.
Although the vehicle itself is connected to the internet – how rlse to get those over-the-air software updates – there's no Wi-Fi hotspot for passengers to use.
The Google voice recognition system is standard. It works well and because it responds to plain-language commands is easy to get the hang of.
Google Maps is the default navigation system. It keeps track of range and distance and shows nearby charging stations when range gets low.
The 2021 Polestar 2 Launch Edition gets a premium 13-speaker Harmon Kardon audio setup and the infotainment system features with a vertically-oriented 11.3-imch touchscreen.
Safety and Driver Assistance
While The 2021 Polestar 2 hasn't been independently crash-tested, its Volvo roots should garner it high scores when it is. The Polestar 2 platform is shared with the 2021 Volvo XC40, which earned NHTSA's 5-star overall safety rating and an IIHS Top Safety Pick-Plus rating.
Polestar equipped its first EV with a full complement of active safety and driver assistance systems borrowed from Volvo. The list includes adaptive cruise control with full range stop-and go; lane departure alert and lane keeping assist; rear collision mitigation; front collision mitigation with pedestrian and bicyclist recognition; cross traffic alert and collision mitigation, and Pilot Assist, which adds lane centering and following to the adaptive cruise control.
We found Pilot Assist to be quite helpful in stop-and-go traffic. But while it worked fairly well at high speeds it is not perfect. Once during our test drive a left-turn pocket appeared at the peak of a hill and the car started to swerve out of the marked fast lane and into the turn pocket. That required driver intervention to correct.
So…
The 2021 Polestar 2 offers a powerful dual-motor AWD layout, Google-based infotainment system and comfort, ride and handling that are among the best in the class. Although not the fastest EV in its segment, the small hatchback eclipses Tesla's Model 3 and Model Y in some categories, including interior design and driving dynamics.
On the downside, only the standard range Mach-E trims have less range than the 233-mile, Polestar 2 Launch Edition.
But if it's not to be used by a ride-share driver or for a long-distance car pool of 6-footers, the Polestar2 provides lots of room up front and decent-enough cargo room even with the back seats in use – and it can tow a pretty good-sized trailer if more cargo capacity is needed.
It's also fun to drive and is worth a look from anyone also considering one of the smaller Teslas or a comparably equipped Mustang Mach-E.