More range
More power
Improved handling
More standard features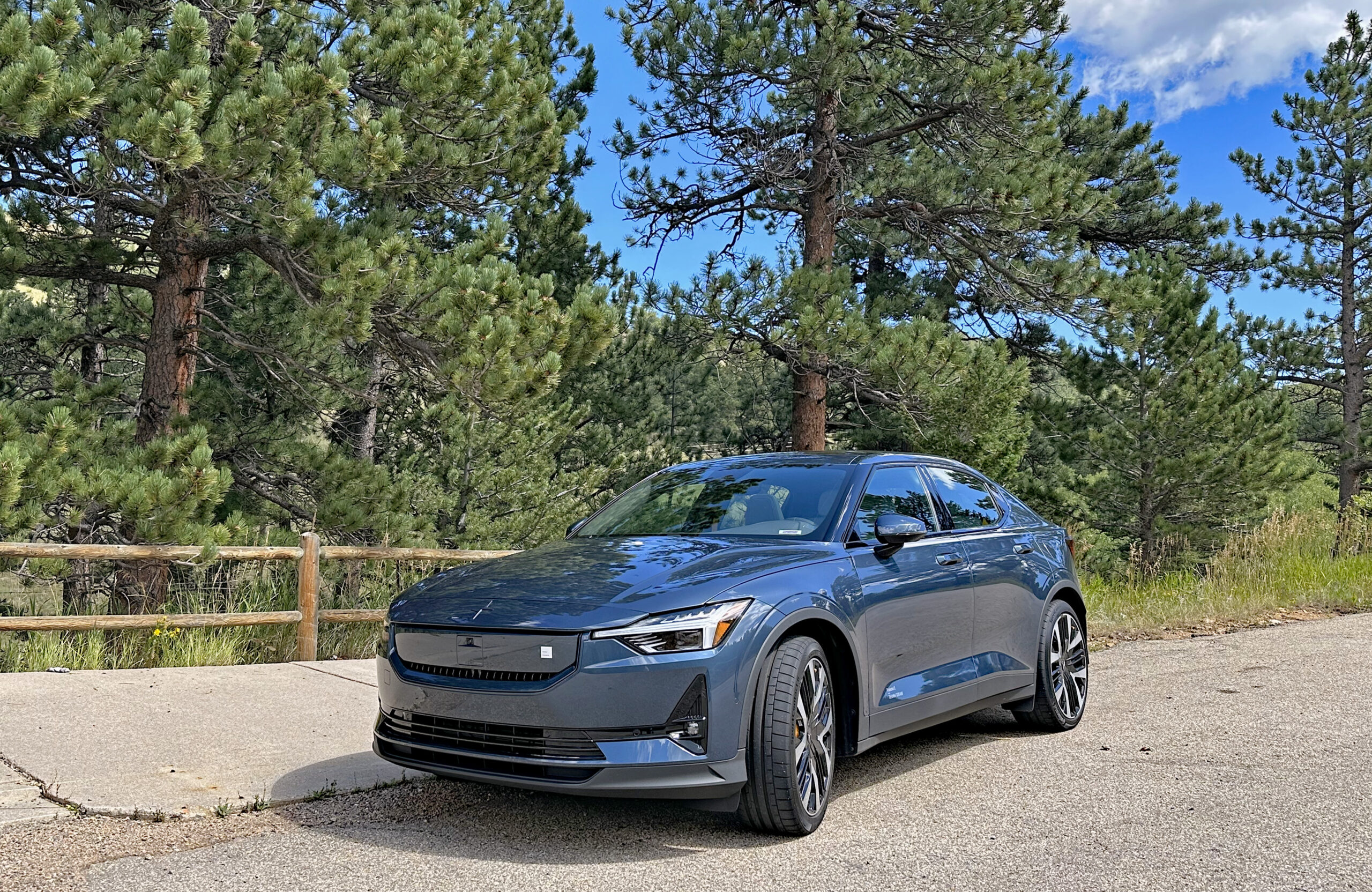 Take a well-received, strong-selling compact EV and boost its horsepower, improve handling, add more range and increase standard features for a modest price hike and what's not to like?
That's the formula Polestar has used with the 2024 Polestar 2, surely to the delight of those about to acquire although perhaps a bit disappointing to some who own older models of the EV that launched in 2020 and now might wish they'd waited.
For its first three years in the market, the Polestar 2 compact hatchback sedan came as either a front-drive, single motor model with 231 horsepower or a dual-motor, all-wheel drive model with a front-drive bias and 408 ponies.
For 2024, the Polestar 2 single motor model shifts to rear drive (relatively easy to do in an EV) with a larger battery and more powerful motor, good for 299 horsepower. The dual-motor model gets the same new, beefier motor for its rear axle, keeps last year's front motor, shifts to a rear-drive bias and sees a boost to 421 horsepower.
The dual-motor trim's optional Performance Pack includes a power management software adjustment that increases that to 455 hp for those with an extra $5,500 spend. That works out to $161.76 per additional pony.
A new and more powerful 82-kilowatt-hour battery and other tweaks give the single-motor variant of the 2024 Polestar 2 an addition al 50 miles of range – to an impressive 320 miles per the EPA estimate.
The dual motor model doesn't get the new battery but still manages to wring an additional 16 miles of range from its holdover 78 kWh pack.
We found in our own recent driving experience in the Rockies near Denver that the Polestar 2 in either powertrain configuration holds pretty true to its EPA estimates, even at high altitude. A vigorous "one pedal" maximum setting for the regenerative braking system helps recapture on the way down most of the extra miles consumed while climbing.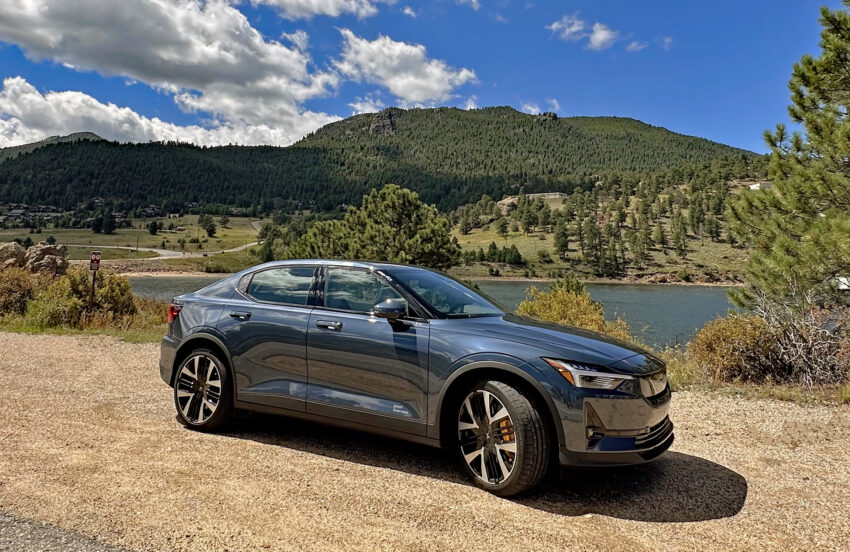 The official names of the two models are Long Range Single Motor and Long Range Dual Motor. fortunately, there isn't a mile-long chrome name badge spelling that out and spoiling the compact five-seat EV's rather minimalist exterior lines. Polestar differentiates its cars with a small decal – like something you might see on a military jet – tucked down on the lower leading edge of each front door.
The long range single motor decal reads "Polestar 2" on the top line and "82kWh/220 kW" underneath, denoting battery capacity and motor output in kilowatts – 220 kW = 299 hp. Dual motor models get "78 kWh/310 kW" on that second line. For dual motor models with the performance pack, it reads "78 kWh/335 kW."
We still have some complaints about the Polestar 2 – the biggest being that the rear door opening, with its narrow foot space and downward sloping roofline – makes it difficult for those less limber than a strand of cold spaghetti to dive in and out of the rear seating area. Once in, though, the rear seats are comfortable, if a big tight on legroom.
Our other major gripe is that adaptive cruise control in an expensive option in the single motor trim, which is the one most U.S. buyers have been selecting and likely will continue to choose.
Still, for an inflation-fighting 3% hike in the base price, the single motor version gets a number of added features for 2024 on top of the range power and handing improvements: wireless phone charging, rear cross traffic alert, a 360-degree camera system, and a new "smart zone" grille that houses sensors for the Polestar 2's Volvo-derived driver assist and active safety systems.
The dual motor gets its powertrain and handling improvements, all the new features of the single motor and adaptive cruise control with lane keeping and following, emergency stop assist and rear collision mitigation for a 5% increase in the base price.
Suffice it to day that we liked the Polestar 2 when it first came out in 2021 and we like it even more for 2024. 
2024 Polestar 2 Pricing and Content
Long Range Single Motor
The Polestar 2 single-motor trim starts at $51,300, including a $1,400 destination fee, and includes LED headlights, adaptive LED taillights, 19-inch alloy wheels with all-season tires, rain-sensing wipers, a hands-free powered liftgate, retractable exterior mirrors with auto dimming and reverse tilt, and lifetime over-the-air software updates for both infotainment and power management.
Pricing is before any applicable state and local incentives. The Polestar 2 doesn't qualify for the new federal clean vehicles tax credit when purchased, but those who lease can benefit from the credit under an IRS ruling that exempts leased EVs from the tax credit eligibility rules and allows leasing entities to pass it on via reduced lease rates.
Standard interior features include dual-zone climate control, an automatically dimming rearview mirror, embossed textile seats, driver's seat memory settings, and heated and power-adjustable front seats with adjustable lumbar support and manually adjusting backrests. It also comes with wireless phone charging and an Android Automotive infotainment system that uses Google Maps for navigation and includes Google Assistant, Google PlayStore, and other embedded apps.
New standard equipment for 2024 includes a blind spot monitoring system with steering assist, rear cross traffic alert with emergency braking, parking sensors and a 360-degree camera system.
The Pilot Pack, a $2,000 option, includes LED fog lights that swivel when cornering, side park assist, and Volvo's Pilot Assist with adaptive cruise control, emergency stop assist and rear-collision warning and mitigation.
The Plus Pack, a $2,200 option – priced at $4,200 for earlier model years – includes an upgraded heat pump, a panoramic sunroof with a projected Polestar logo, a premium 13-speaker Harman Kardon audio system, upgraded upholstery, black or light ash inlays, full power-adjustable seats with manual front-seat cushion extension, a foot sensor for the power rear liftgate, and heated rear seats, steering wheel, and washer fluid nozzles. It also includes an advanced cabin air filter and a new air-quality sensor and app that displays a profile of the air outside of the vehicle, including types of pollen present.
A $4,000 Nappa leather upholstery upgrade, which includes ventilated front seats, is available when ordered with the Plus Pack.
Stand-alone options include 20-inch alloys with performance tires, additional exterior paint colors and a fold-away tow bar.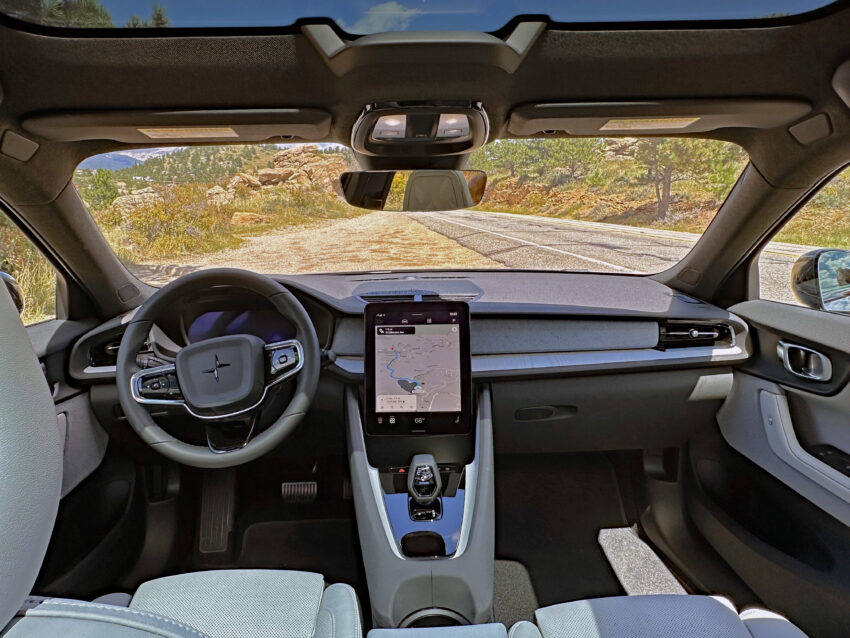 Long Range Dual Motor
The dual-motor trim is priced at $56,700 and adds a second motor, more horsepower and torque, electronic all-wheel drive, adaptive LED headlights, keyless ignition, dual-zone climate control with rear vents, a hands-free liftgate, all of the Pilot Pack driver assist features, and automated parking.
The Plus Pack remains a $2,200 stand-alone option.
The $5,500 Performance Pack option is exclusively for the Long Range Dual Motor. It includes all of the Pilot and Plus Pack features plus manually adjustable Öhlins dampers, Brembo front brakes with gold-colored calipers, 20-inch alloy wheels, gold-colored seat belts, and a software update that increases horsepower and torque.
Ventilated Nappa leather upholstery, 20-inch wheels and performance tires, additional exterior colors and he fold-away tow bar are stand-alone options for the dual motor trim.
Battery, Power, Range and Charging
The 2024 single-motor trim gets an 82-kWh lithium-ion battery pack, up from 78 kWh in previous model years. It has improved cooling and power management systems, so despite providing only 5% more energy, delivers enough juice for an 18.5% boost in EPA-estimated range and a 30% hike in horsepower.
The single-motor trim now delivers 299 ponies, up from last year's 231 hp. Torque is up as well, to 361 pound-feet from 243 lb-ft., a hefty hike that helps shave 1.1 second from the single-motor trim's 0-60 time, cutting it to 5.9 seconds per Polestar's in-house testing.
Top speed for all trim levels is 127 mph.
Range for the 2024 single-motor is an estimated 320 miles with the standard 19-inch wheels and all-season tires, but falls to 307 miles with the optional 20-inch alloys and performance tires.
An improved battery cooling system allows for speedier DC fast-charge sessions for the single moor Polestar 2. It can now charge on road trips at up to 205 kW per hour on DC fast-charging stations that can supply that much. For a battery that's 90% depleted, that's good for top-up to 80% of capacity in as little as 28 minutes.
The 2024 Long Range Dual Motor trim sticks with last year's 78 kWh battery (for cost and supply chain reasons) but manages to deliver what's needed for a 3% increase in horsepower – to 421 ponies from 408 – and a 6% range increase, to 276 miles from 260 miles. Add 20-inch wheels and performance tires and the gain is lost as range drops back to 260 miles.
The Performance Pack provides a software tweak that boosts dual-motor output to 455 hp. Torque is the same for both versions – 546 lb.-ft., up from 467 lb.-ft. in 2023 models – but range for the 2024 dual motor with Performance Pack drops 10.5% to 247 miles.
If 0-60 matters, the base dual motor will make the sprint in 4.3 seconds, according to Polestar. That's down from 4.5 seconds for the previous model year. The Performance Pack boost cuts the 2024 dual motor trim's 0-60 time to 4.1 seconds – at a cost of $1,375 per tenth of a second.
Because it didn't get the new battery, the dual motor trim retains the previous year's 155 kW maximum DC fast-charge rate and 10% to 80% top-up time of 34 minutes.
Both single- and dual-motor models use an 11-kW on-board system for Level 2, 240-volt home and workplace charging. That will take a fully depleted battery back to 100% capacity in 8 hours with a 40-amp Level 2 charging station (which needs a dedicated circuit of at least 50 amps). A less costly 32-amp home charging station will do the job in about 11.5 hours. Because few drivers run their EV batteries completely dry between charging sessions, the 32-ap system is sufficient for almost all home charging.
Safety
The Polestar 2 has a 5-star overall safety rating from the National Highway Traffic Safety Administration, but the agency hasn't yet rated the standard safety systems – forward collision warning, lane departure warning, frontal crash mitigation and dynamic brake support (which increases braking force when a crash is imminent and on-board sensors say the driver isn't mashing the stop pedal hard enough).
The non-profit Insurance Institute for Highway Safety hasn't tested the Polestar 2 yet, but is platform-mate*, the Volvo XC40 Recharge, has earned an IIHS Top Safety Pick + rating, which bodes well for the Poletstar if it is tested.
The 2024 Polestar 2 comes with a hefty package of active safety and driver-assist systems. The safety tech includes front collision avoidance and mitigation with pedestrian and bicyclist detection and emergency braking and steering support; lane-departure alert and lane-keeping assist; oncoming traffic alert and collision mitigation, blind spot monitoring with emergency steering assist, and cross traffic collision warning with emergency braking.
The Pilot Assist system – optional for the single-motor and standard on the dual-motor, adds full adaptive cruise control with lane centering and lane following. It also adds emergency stop assist and LED front fog lamps with cornering function.
We found Pilot Assist to be quite helpful in stop-and-go traffic. It also works well at high speeds but as is the case with any such system shouldn't be blindly relied on.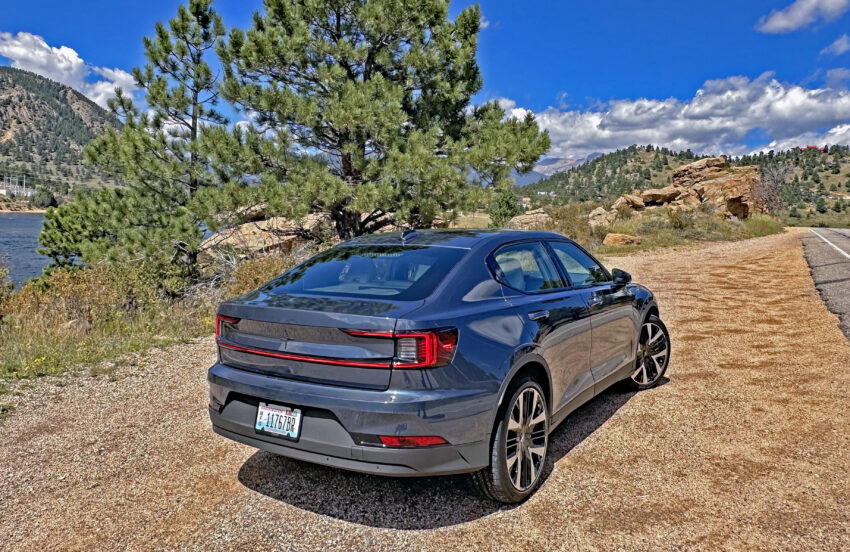 To facilitate this review, GreenCarGuy.com attended a Polestar-sponsored event that included travel, meals and lodging.
*Polestar, founded in 2017, is a publicly traded brand based in Sweden with manufacturing in China and, soon, the U.S. Its major shareholders are its co-founders – Volvo Cars and China's Zhejiang Geely Holding Group. Geely, in turn, holds a majority interest in Volvo.