Roomier back seat
More cargo capacity
New small battery choice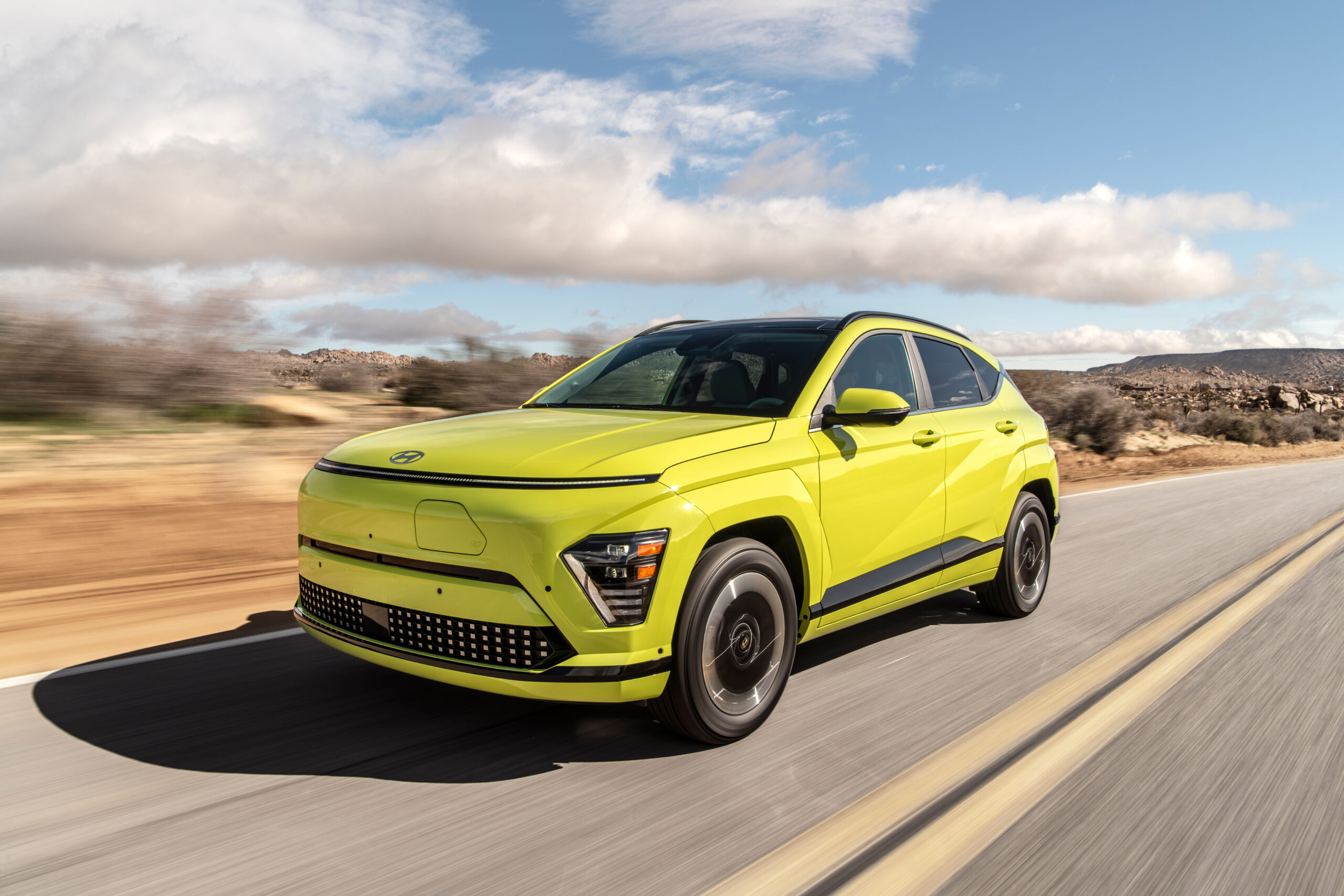 Hyundai's Kona subcompact crossover gets an overall redo for the 2024 model year, growing a bit in the process – and the electric version, the 2024 Kona Electric, will now offer two battery choices – and , we anticipate, new, lower prices for the variant with the new small battery.
The new Kona – Electric and internal combustion – will be almost 6 inches longer and an inch wider than its predecessor, for more cabin and cargo space and, with its accompanying longer wheelbase, a smoother ride.
The 2024 Kona Electric will retain previous model years' single-motor, front-wheel drive layout, but will now offer a 133 hp version with a 48.6 kWh battery as well as the same 201- horsepower, 64.8 kilowatt-hour battery configuration as in 2023. Torque in either version will be 188 pound-feet – a lot less than the 2023 model's 291 pound-feet but still enough to provide decent acceleration.
Hyundai is estimating up to 260 miles of range for the large battery variants – a 2-mile increase – and up to 197 miles for the new, small battery variants.
While the internal combustion 2024 Kona is on sale now, the redesigned Kona EV won't hit the market until the end of the year and pricing has not yet been released.
But with the internal combustion trims ranging from $25,435 to $34,485 – including destination – we expect that the EV should start closer to $30,000 for the small battery version in base trim and $36,000 for the base trim with the large battery.
EV First
Hyundai engineers and designers for the 2024 model took the unusual step of penciling out the EV first, then applying that design to the internal combustion variants.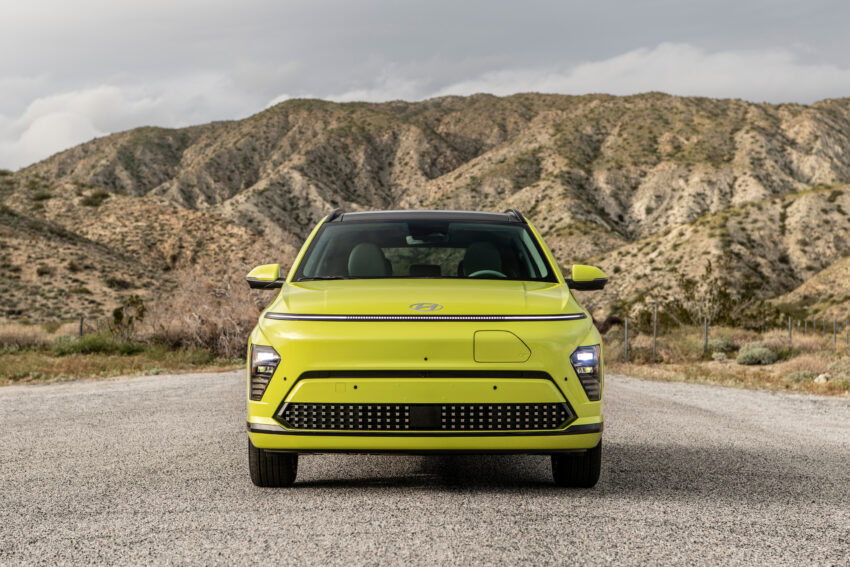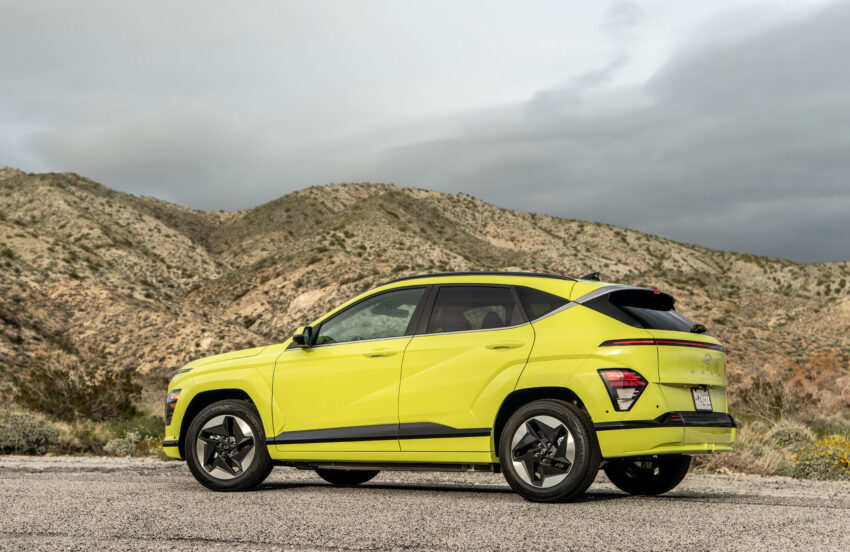 Typically, when an EV shares its platform with an ICE, the internal combustion version – which usually accounts for the higher volume trims – is designed first and the EV components must be shoe-horned into spaces intended primarily for internal combustion powertrains and fuel systems.
That often leads to compromised passenger and cargo space for the electric version of the vehicle.
The reversal, which erases those compromises, is part of Hyundai's shift toward electrification of its entire vehicle lineup.
Growing Up
For 2024, the Kona Electrified stretches an additional 5.9 inches (597 inches for the ICE version) for overall length of 171.5 inches (171.3 for the ICE) while its wheelbase grows by 2.3 inches to 104.7 inches. Width is now 71.9 inches, an inch more than for the 2023 Kona.
Hyundai hasn't yet released information about the 2024 Kona Electric's features, but it should share a lot with its ICE counterpart.
The N-Line appearance and N performance designations are being reserved for the Kona's internal combustion lineup, but if the EV trim-line strategy from 2023 holds over, the '24 Kona Electrified should be available in SE, SEL and Limited trim levels.
If that's the case, here's a look at what we think the 2024 Kona Electric's features lists will include (it is likely that models with the small battery will have fewer features than those with the larger battery):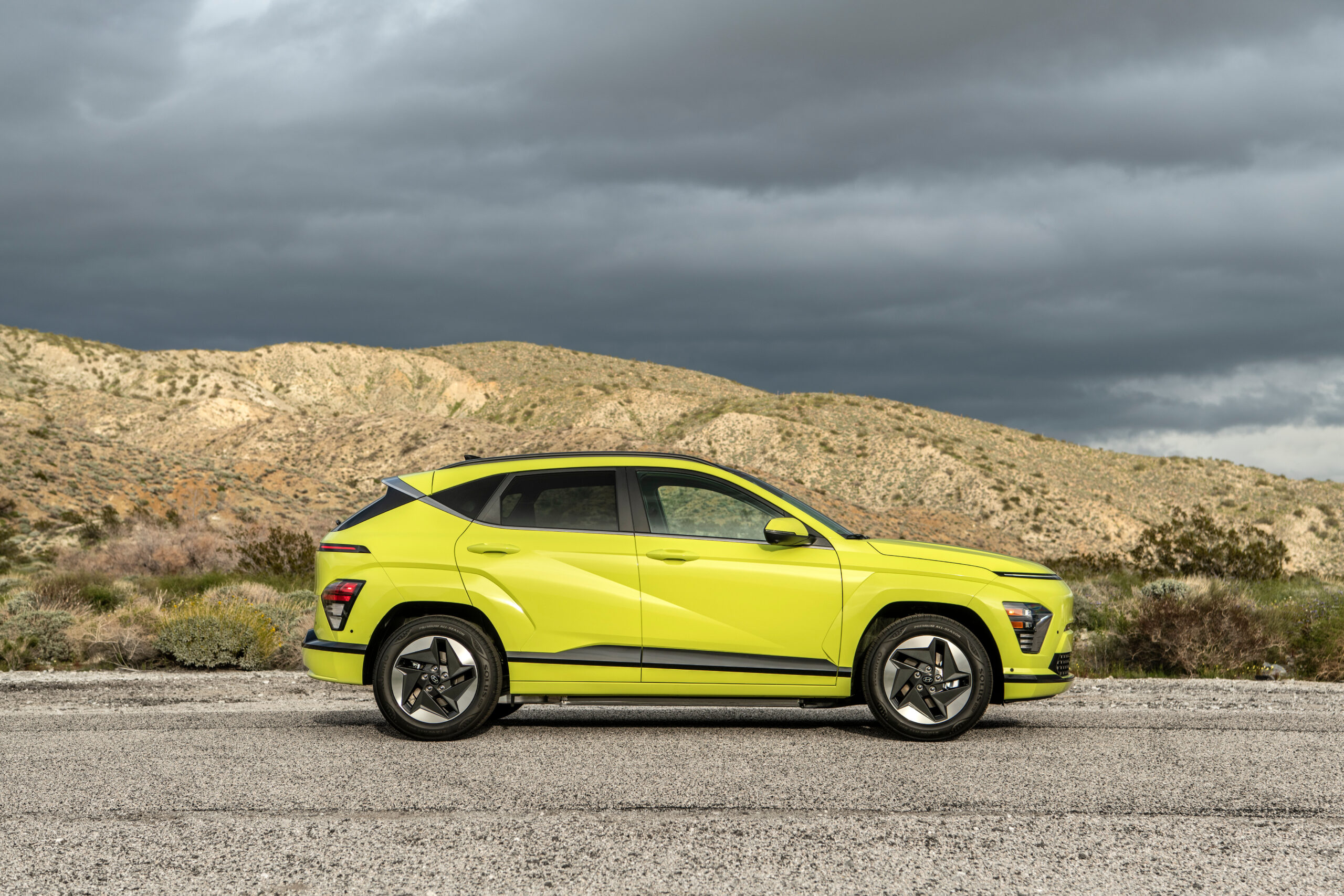 SE Trim
LED headlights, running lights and taillights, 17-inch alloys, cloth upholstery, eight-way power adjustable driver seat, 60/40 split and reclining rear seat, power windows, dual 12.3-inch information and infotainment screens, standard heating and air conditioning, a 6-speaker audio system with wireless Apple CarPlay and Android Auto capability, on-pedal driving mode, and regenerative brake system paddle shifters.
SEL Trim
The mid-range trim likely will add 18-inch alloys and tires, black roof rails, and eight-way power adjustable driver's seat, leather-wrapped steering wheels, auto-dimming rearview mirror, and dual zone heating and air with second-row air conditioning vents, a power sunroof and a wireless phone charging pad,
Limited Trim
The 2024 Kona Electric's top trim should come with 19- or 20-inch alloys and tires, heated and ventilated front seats, leather trimmed upholstery, a heated steering wheel, Harman Kardon premium audio, in-dash navigation, wired Apple CarPlay and Android Auto, a surround-view camera system, interior ambient lighting, an auto-dimming rearview mirror with HomeLink, and a digital key system.
Active Safety
Hyundai equips the Kona Electric with a basic set of active safety and driver assistance systems including blind spot collision warning, rear cross-traffic avoidance assist, forward collision mitigation with pedestrian and cyclist detection, lane keeping and lane following assist and standard cruise control.
In addition, the Limited trim gets adaptive cruise control with full stop-and-go function, Hyundai's highway assist feature with lane centering and safe following assist, a remote smart parking system, and a blind spot monitor.
Charging the 2024 Kona Electric
Full details aren't yet available, but Hyundai says the new Kona Electric is built on a 400-volt electrical architecture, not the 800-volt architecture of the Ioniqs.
That means it won't be able to take full advantage while road-tripping of the most powerful DC fast-charge stations. But the automaker says it still will be able to take a 90% depleted battery – the large one – back up to 80% of capacity in as little as 41 minutes.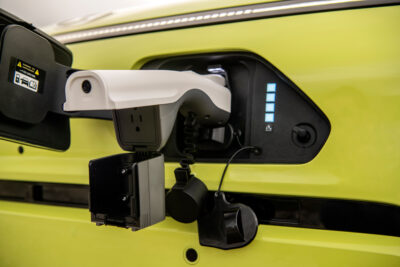 For fast-charging, the Kona electric uses the CCS – combined charging system – connector and cannot utilize Tesla's Supercharge network.
A number of major brands have said they will adopt Tesla's "NACS" fast-charge system, in order to increase the number of DC stations their vehicles can access. (NACS stands for North American Charging Standard, but it hasn't been made the standard by anyone except Tesla.)
Hyundai, however, has joined forces with BMW Group, General Motors, Honda, Kia, the Mercedes-Benz Group and Stellantis to develop a new network of 30,000 fast charge outlets across the U.S. that will nearly quadruple the number of outlets using the CCS charging system.
Inside the Kona Electric
The Kona gets a highly upgraded interior for 2024, in terms of materials and how they fit together. The look is airy and more modern, with a cleaner dash, and narrower (but more capacious) center console.
The front seats are thinner for a sleek, sporty appearance (we'll let you know how supportive they are once we've been able to spend some time on the road in one). The fairly flat – but reclineable – rear bench seat has a 60/40 split for seating and cargo loading versatility.
The old console-mounted and space-gobbling shift selector has been replaced by a column-mounted shifter, allowing designers to narrow the console – providing more knee and leg space for driver and front passenger – while providing more storage space in it. The console now floats through the center of the front compartment and isn't attached to the dash.
| | | |
| --- | --- | --- |
| Kona Electric | Interior Specs | (in inches) |
| | 2024 | 2023 |
| Front Headroom | 39.9 | 39.6 |
| Rear Headroom | 38.3 | 37.7 |
| Front Legroom | 41.7 | 41.5 |
| Rear Legroom | 38.2 | 33.4 |
Trims with the dual 12.3-inch driver information and infotainment screens get the same dual-screen setup – both nder glass in a in a single housing – as the Ioniq 5 and Ioniq 6 EVs. While the screens are hme to a lot of vehicle function controls, there are still physical controls for the heating and air conditioning system, audio system, seat heaters and drive mode selection – controls people use frequently and shouldn't have to hunt for in an on-screen menu while driving.
The new Kona's larger size doesn't translate to a lot of improvement in head room – 0.3 inch up more up front and 0.6 inch in back- or in front leg room – just 0.2 inch more than last year's model.
But those measurements already were adequate for a small crossover.
The big improvement comes where really needed, in rear legroom – there's 4.8 inches more of it than in the 2023 Kona's cramped rear seating compartment – and in cargo space.
Cargo Capacities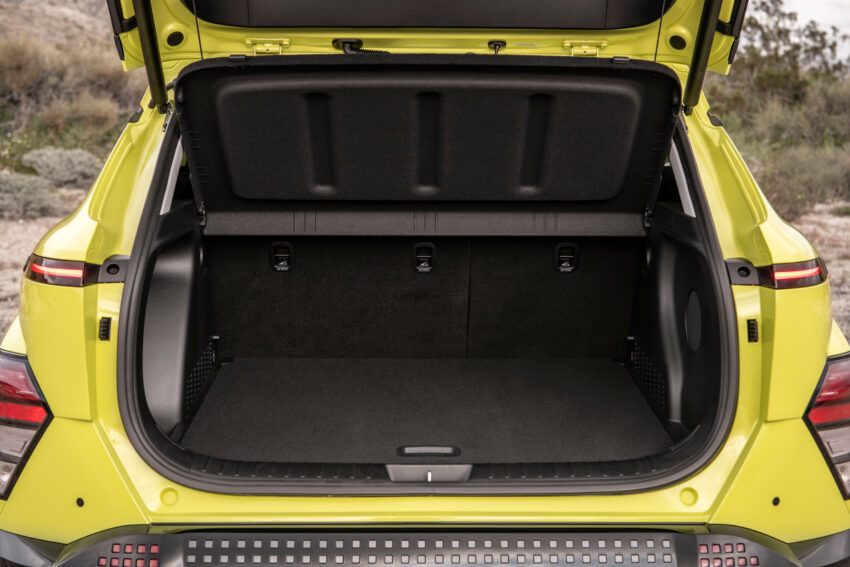 Behind the rear seats is a 25.5 cubic foot cargo area that's 33% bigger than in the '23 Kona and includes an under-floor storage space. Fold the seat backs down – unfortunately, they don't lay perfectly flat – and total in-cabin cargo capacity swells to 63.7 cubic feet, a 39% improvement from 2023.
There's also – new for 2024 – a small 0.9-cu.-ft. front trunk, or frunk, for additional small item storage under the hood.
As in the past, the '24 Kona Electric isn't rated for towing.