Remember when Chevrolet said the upcoming 2024 Equinox EV would start at "around $30,000?" Well, no more. Official Equinox EV prices are out and the starter is $34,995 – including destination. But it won't be available until late in 2024, maybe even into 2025 – long after two much costlier models are introduced.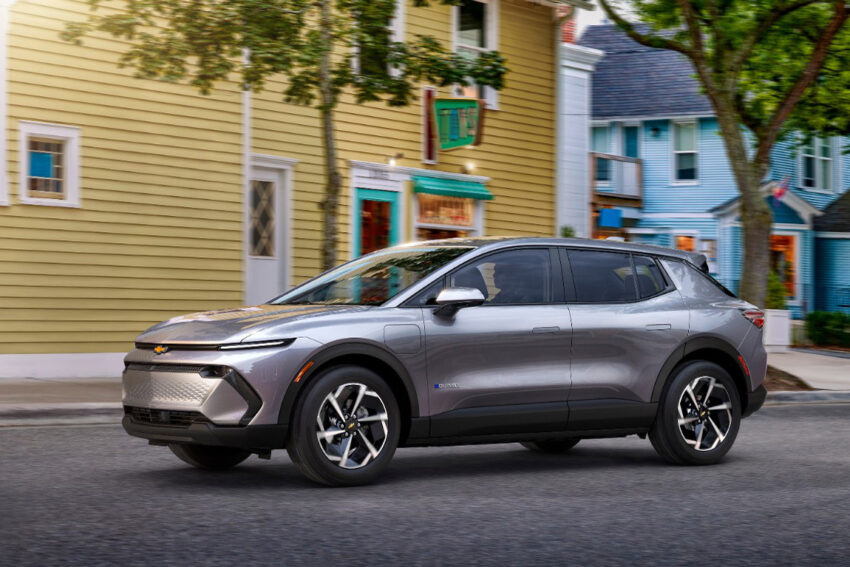 The initial two Equinox EV prices will be $48,995 for the front-wheel drive 2RS trim and $52,395 for the electronic all-wheel drive variant. Goodies will include 17.7-inch infotainment screens, 20-inch wheels, heated front seats and power rear lift gates.
The budget-friendly circa-$30,000 1LT trim with a smaller "standard range" battery and lower levels of standard equipment has been dropped from the lineup. The new base model apparently will still be a 1LT package, but with the larger, or long-range, battery – now the only battery offering for the electric Equinox.
On the plus side, the Equinox EV will be eligible for the full $7,500 federal 2024 clean vehicle tax credit, for buyers and lessees. and in 2024 the tax credit can be applied directly against the purchase price of a new EV for the first time (if the dealership has signed up for the program). That means that instead of waiting til tax time to ee the credit, qualified buyers (there are income caps) can apply it as part of a down payment at the time pf purchase.
That's a good thing because knocking $7,500 off Equinox EV prices up front will go a long way to making them affordable to more people.
Chevrolet is estimating 319 miles of range for the new base 210-horsepower, single motor, front-drive 1LT trim; 300 miles for the front-drive, single-motor 2RS, and 280 miles for the dual-motor, 290-horsepower all-wheel drive 2RS.
All trim levels will be built on General Motors' new Ultium platform for EVs and will have 11.5 kilowatt Level 2 charging for home and workplace and and 150 kW DC fast-charge capability for topping up the batteries on road trips. The Equinox EV also provides Up to 57 cubic feet of cargo area with the rear seat backs folded down.