A Plug-In Hybrid Pickup That's Miles Ahead of the Competition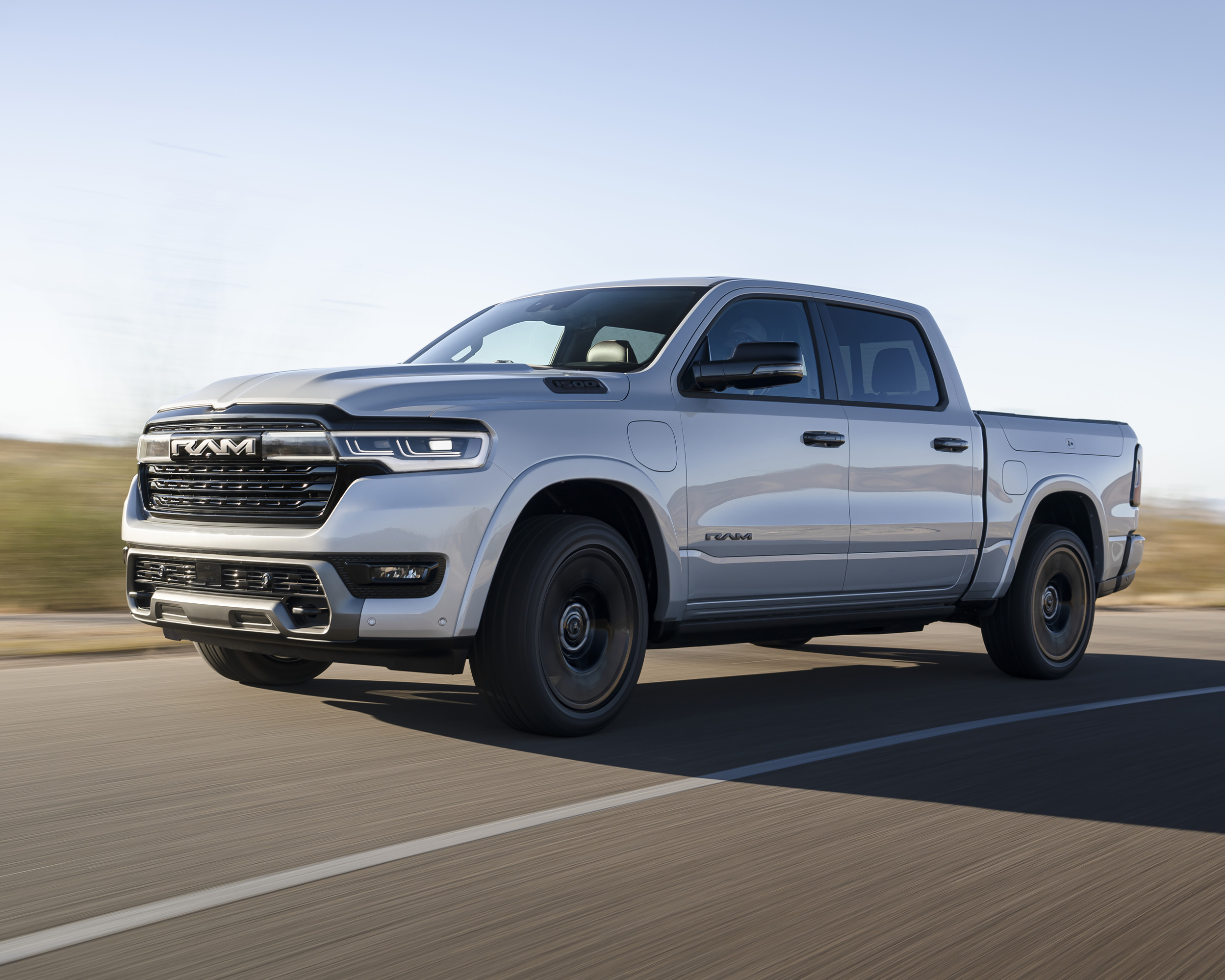 You'll have to give up on the idea of driving with no tailpipe emissions, but if you want a full-size pickup with the oomph of an EV, the capabilities of areal work truck and the ability to soldier on long after the competition has dropped out to refuel, Ram's 2025 Ram 1500 Ramcharger may be just what you are looking for.
Stellantis' truck unit says the Ramcharger will be able to travel up to 690 miles on a fully charged battery and a tank of gas. The closest all-electric competitor will be (if it ever makes it to market) the tri-motor version of the long-promised, much-delayed Tesla Cybertruck, which promises a 500-mile maximum range. A handful of gasoline and diesel pickups can top 690 miles if equipped with oversize fuel tanks, but with standard tanks the best is the two-wheel drive 2025 Chevrolet Silverado's 572 miles.
In addition to all †hat range, the Ramcharger – the industry's first plug-in hybrid pickup – also has class-leading towing capacity of up to 14,000 pounds plus a 2,625-pound payload capacity. That tails only the 3,500-ponds claimed for the Cybertruck and, barely, the 2,700-pound capacity of the upcoming Ram 1500 REV, the Ramcharger's electric-only stablemate.
When?
Ram says the Ramcharger will be in showrooms in early 2025. But the automaker plans to begin taking on-line orders or reservations before the end of 2023.
A PHEV pickup?
The Ramcharger, which combines a pair of electric motors and the battery that feeds them with an on-board generator powered by a V-6 gas engine, is indeed a plug-in hybrid – but an unconventional one.
Typically, PHEVs run on their battery and electric motor(s) until the battery charge is depleted, then rely on a gas engine that takes over and turns the wheels.
The Ramcharger took a page from Chevrolet's discontinued Volt and uses its 3.6-liter Pentastar V-6 engine solely to turn a powerful on-board generator. The generator supplies power to the battery to keep the wheels turning once the original battery charge – from the grid – is depleted. Generator power can also be used to augment the battery when extra juice is needed for maximum power – when passing for instance – or to take the battery off line and save its charge for later during a trip – when approaching a quiet zone in a city downtown area, for instance.
Ram says there is no mechanical link between the V-6 and the wheels, which means the Ramcharger is driven solely under electric power, but still burns gas so is not a zero-emissions vehicle.
The Ramcharger powerplant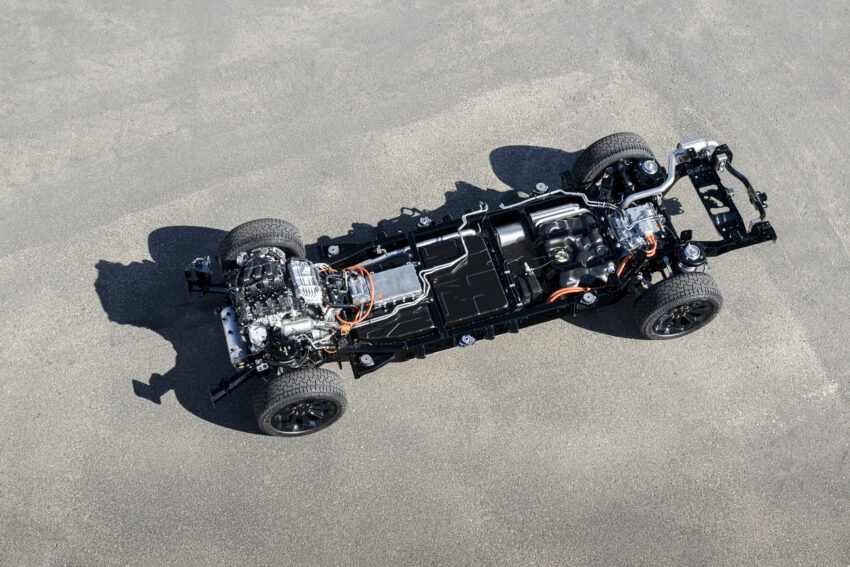 To make it all work, Ram's powerplant engineers equipped the Ramcharger with an electronic all-wheel driver layout that uses powerful electric motors on each axle. They are fed by a rechargeable 92-kilowatt-hour battery, the V-6 powered on-board generator, or both. Although nominally all-wheel drive, the Ramcharger's front wheels can automatically disconnect and go into free-wheeling mode to help maximize range (the on-board power management computer apparently decides when).
At maximum output, the system provides the Ramcharger with 663 horsepower and 615 pound-feet of torque, which is great but not class-leading. The Cybertruck, according to Tesla, will have one version with at least 800 horsepower and close to 1,000 lb.-ft., and there's a 1,000-hp version of the Hummer EV Pickup from GMC.
Ram REV vs Ramcharger
The Ramcharger won't appeal to those who want an electric pickup to be emissions-free, but it's got the Ram REV all-electric beat in range at 690 miles vs 350 or 500 miles, depending on battery choice – 168 kWh or 229 kWh.
The two electrified Rams are virtually tied in power output, 663 ponies and 615 lb.-ft. to 654 hp and 620 lb.-ft., and are tied in towing capacity at 14,000 pounds maximum. The Ramcharger trails the REV slightly in payload, 2,625 pounds to 2,700 pounds.
The two trucks are virtually identical in exterior design and appointments, and, from what we can tell from photos supplied by Ram, in interior appointments as well.
The Ram REV never has to stop at a gas station while the Ramcharger does.
But it takes the REV, with its 189- or 229-kWh battery pack, much longer than the Ramcharger, with just a 92-kWh pack, to replenish its electrons when that battery is depleted.
Charging that Ramcharger
For road trips – and for those with no ability to charge at home – the Ramcharger will be equipped for DC fast-charging at up to 145 kilowatts per hour – quick enough to add 50 miles of range in 10 minutes or, we estimate, to bring a 90% depleted battery back up to 80% of capacity in about 35 minutes.
Electric pickup competitors all have much larger batteries and quicker fast-charge speed, ranging from 155 kW per hour maximum for the Ford F-150 Lightning to 350 kW for the Silverado EV.
For home or workplace charging, the Ramcharger likely will be capable of 11-kW charging. A 240-volt, 48-amp Level 2 system should take about 5.5 hours to refill a depleted 92 kWh battery, while Level 2 chargers with lower amperage would increase the time needed for a full recharge.
Ram says the Ramcharger will be able to provide bi-directional charging, sending power from its battery to, electric appliances and tools, to charge another GM electric pickup or even to power a house during a blackout (presuming the home is equipped to receive battery power).
Other Stuff
We don't know pricing yet but expect the Ramcharger to start in the mid- to high $50,000 and run well into the $90,000s – maybe even higher.
Ram hasn't given out many details about standard and optional equipment,but has said there will be at least five trim levels: Tradesman (a work truck); Bighorn,Larame, Limited and Tungsten.
Standard equipment – and some items may not be available at lower trim levels – will include adjustable air suspension with five modes including two for off-road conditions; 12- and 14.5-inch reconfigurable digital infotainment screens, the size depending on trim level; a10.5-inch screen for the front passenger seat; a configurable head-up display; multiple driving modes including Sport, Tow, Snow and Off-Road; eco, battery-saving "e-save" and power maximizing "electric +" powertrain configurations; push-button controls for normal, max and one-pedal driving modes for regenerative braking, and a lockable, lighted Rambox cargo hold with a 115-volt power outlet.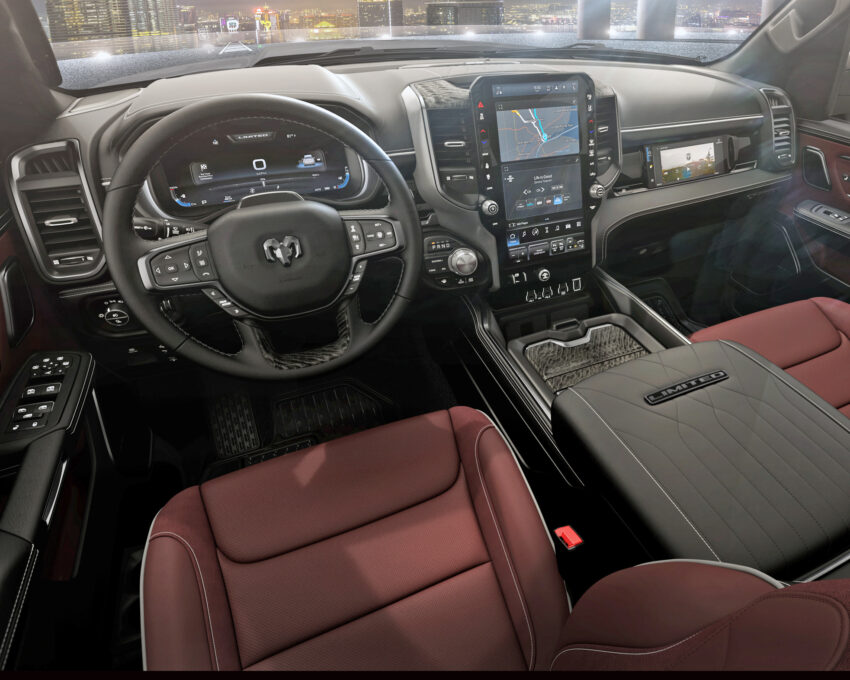 The Ramcharger uses Ram's Uconnect 5 infotainment system through 12- or 14.5-inch touchscreens. It is one of the most user-friendly systems around. Competitor's screens range from 13.4-inches for the Hummer EV Pickup to 17 inches for the Silverado EV.
We expect Apply CarPlay and Android Auto to be standard, along with a decent compliment of USB ports.
There's also a 10.25-inch touch screen for the front passenger – angled so the driver cannot see it.  It allows passengers to perform some co-pilot functions like setting the navigation system, to view exterior cameras on models equipped with them, and to mirror their smartphones or tablets via an HDMI input.
The Tungsten trim, which apparently will be part of the launch lineup, is the only one Ram's issued much about. It will feature heated and ventilated, power-adjustable 24-way front seats with position memory, massage function and 4-way power adjustable head restraints; leather upholstery; suede headliner; a digital rearview mirror; bright metal interior trim; a "crystal-effect" center cap on the shifter; special badging and a 23-speaker Klipsch Reference Premiere audio system – the first automotive application for the high-end audio company. Ram's still mum on audio for the lower trims.
The Ramcharger's back seat is a flat bench with a large center pull-down armrest, probably with cup holders and maybe even a desktop, and in photos of the Limited trim the rear of the cabin looks to have its own climate system controls and vents
A two-panel sunroof and sunroof motor controls are visible in the Limited interior photos as well, so that amenity will be available, probably an option on some trims and standard on others.
Safety
The 2025 Ram 1500 Ramcharger hasn't been crash tested by either the National Highway Traffic Safety Administration or the Insurance Institute for Highway Safety.
Standard safety and driver assistance features include front collision mitigation, adaptive cruise control, and lane keeping and lane centering assist. There likely is more, but Ram hasn't yet disclosed those features.