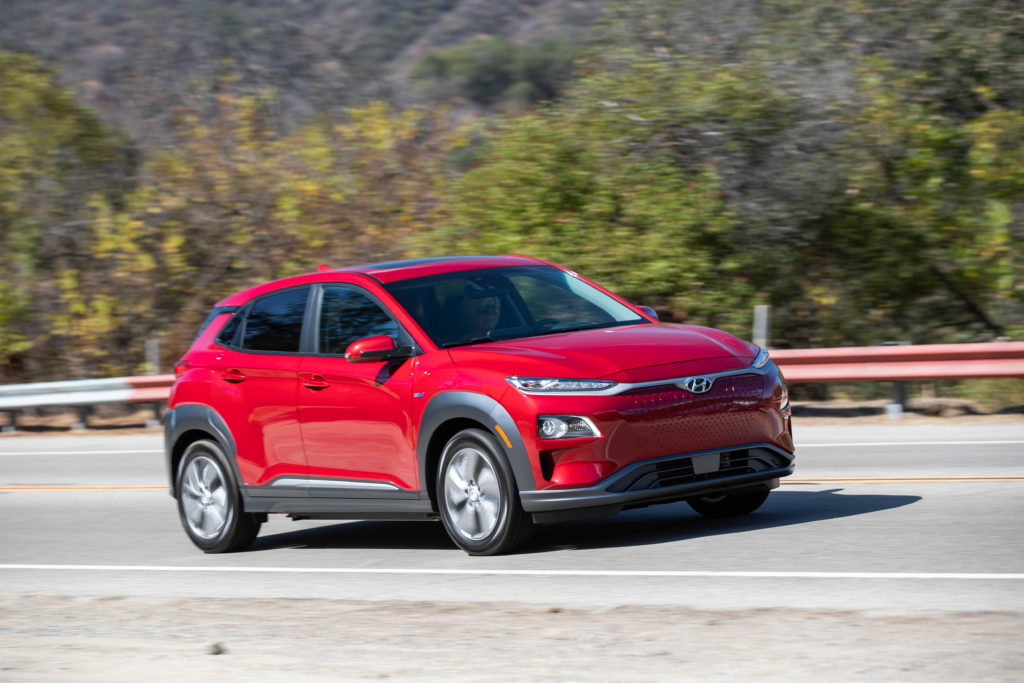 Hyundai's Kona EV Illustrates Regional Differences in EV Acceptance
Despite a generally growing worldwide appetite for electric vehicles, the U.S. market remains fairly flat.
While a number of states, led by California, have actively promoted EVs for years, there's been no big national push at the federal level.
Lately, under the Trump administration's push to roll back automaker fuel economy requirements, the national policy seems to be working against EV growth.
[Estimated reading time: 4 min.]
That's not the case in China and Western Europe, where national governments concerned about pollution, greenhouse gas emissions and energy independence have actively instituted policies that push consumers toward EVs over internal combustion vehicles.
Canary in Coal Mine?
Sales of Hyundai's highly lauded Kona EV illustrates the issue.
Global sales of the battery-electric version of Hyundai's popular small crossover have topped 100,000 since its introduction two years ago, but the U.S. accounts for less than 5 percent of the total.
That showing underscores the national's weak appetite for all-electric vehicles nearly a decade after the first modern mainstream EV – Nissan's Leaf – was introduced at the end of 2010.
The small crossover has won numerous awards including being named the nation's SUV of the Year in 2019 by an independent jury of automotive writers.
The award was for the Kona generically, not specifically for the EV version, but the electric version was singled out for praise by the jurists.
Most reviewers in the electric vehicle space have found the Kona EV to be one of the best in the market for value, handling and all-around performance.
The Kona EV was introduced here in Feb. 2019 – about 18 months ago – yet cumulative U.S. sales are just under 5,000, the company said.
That compares to sales of 93,400 gasoline-only Konas in the U.S. during the same period.
'Demand Is Higher'
One reason for the Kona EV's small U.S. numbers is that Hyundai only markets it in a dozen states – California and the other so-called ZEV states that have adopted California's aggressive zero emission vehicle requirements.
That strategy acknowledges the difficulty automakers have had in creating national audience for electric vehicles.
The exception is Tesla, whose EVs sell well nationally and, in fact, have accounted for most of the EV growth in the U.S. over the past few years.
But Hyundai says the electric Kona actually is on pace.
Sales are "along the lines of what we planned for," Hyundai Motors U.S.A. spokesman Miles Johnson told TheGreenCarGuy.
"Consumer demand is higher for the Kona Electric than for many other EVs," he said.
But the Kona EV's sales pace also can be pegged in part to "demand [and] allocation issues due to the fact Kona EV is sold in other countries," Johnson added.
Overall EV Sales Slowing
Auto sales in general are suffering this year because of Covid-19 pandemic restrictions and related economic woes
Sales of all types of passenger vehicles are expected to fall by 23 percent globally, according to a recent report by BloombergNEF (New Energy Finance).
EV sales, though, aren't going to be hit as hard, according to the report, which predicts an 18 percent drop for electric vehicles – plug-in hybrid and battery-electrics.
Because of that, EV market share actually will grow globally, although the U.S. won't contribute to that growth this year or next, according to Bloomberg's analysts.
Instead, while EV market share through 2021 increases from 5 percent to 9 percent in China and from 4 percent to 6 percent in Europe, it should remain flat at 2 percent in the U.S.
Growth Seen After 2023
"The U.S. falls further behind leading EV markets over the next few years, but catches up in the 2030s," the Bloomberg report says.
The reason for the flat market? Lack of national policy plus the present economic situation.
And for catching up? "Nearly 60% of U.S. households have two or more cars – and many have the ability to install home charging – making them ideal adopters as EV economics, range and recharging options continue to improve," the report says.
By 2040, the report says, EVs should account for 60 percent of annual new car sales in the U.S, Japanese and South Korean markets, compared to 65 percent in Europe and 70 percent in China.
EV growth, in the U.S. and elsewhere, likely be will be spurred by varying combinations of increased government support of electrification, declining EV prices and growing public awareness of the economic and clean air benefits of EVs.
While PHEVs will be strong in the short term, accounting for more than a quarter of all electrified vehicle sales between 2025 and 2030, their share drops quickly after that as battery costs diminish, bringing down the price of pure electric vehicles, according to the Bloomberg report.
………..
Photo courtesy of Hyundai Motors U.S.A.