Network Operators Providing 25,000 Public Stations in U.S.
Car ownership for most Americans is all about freedom of movement, but EV travel has long been restricted by range and public charging limitations.
A number of EV charging network operators are trying to open things up, though.
[Estimated Reading Tim: 3 min.]
A recent count on the federal Department of Energy's on-line Alternative Fueling Station Locator tallied almost 25,000 EV charging stations across the country with more than 70,000 Level 2 and DC fast-charge connectors.
Kia's Network Deal
One of the most active networks these days Electrify America, formed as part of Volkswagen's diesel emissions cheating settlement with U.S. regulators.
The network is aggressively signing access deals with EV makers, often providing their customers discounted prices for using the EA stations.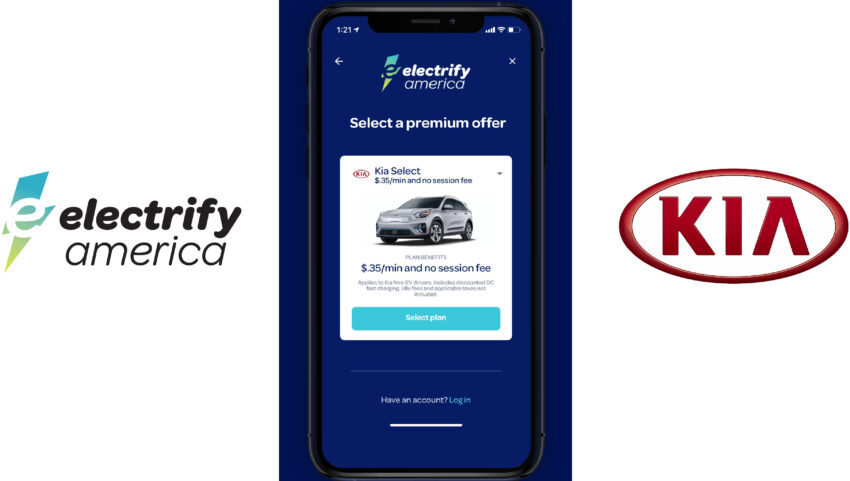 The most recent deal is with Kia. It makes Electrify America's fast-charge network available to owners of 2019 and 2020 Kia Niro EVs at a flat 35 cents per minute.
The program waives the usual session fees and doesn't' require a paid subscription.
Kia Niro EV owners can sign up for the plan by downloading the Electrify America app and completing an enrollment form.
Electrify America aid the program is available until December 31 and will be re-evaluated at the end of the year to determine whether the two companies want to continue it.
More Charging Pacts
Other EV makers that have signed on with Electrify America to make fast-charging available to their customers (terms vary) include:
Ford Motor Co., for the Mustang Mach-E and other future Ford EVs.
Audi of America, for the e-tron SUV – up to 1,000 hours of charging at no cost during the first four years of ownership.
Porsche Cars of North America, for the Taycan – three years of free charging at EA public stations, including its DC fast chargers.
Lucid Motors, for the upcoming Lucid Air sedan.
Byton, for the upcoming M-Byte crossover– two years of free access to the EA network, including 60-minute sessions on Level 2 chargers and 30 minute sessions on DC fast chargers
Fisker, for the upcoming Ocean SUV.
EA also has signed a deal with Harley-Davidson for owners of its LiveWire electric motorcycle. Owners who purchase LiveWire 'cycles between August 2019 and July 2021 can get 500 hours of free charging over two years at EA stations.
At the most recent count, the company has installed 418 stations across the U.S. – with100 more in development.
DC is Level 3
EV charging comes in three stages.
Level 1, 120-volt chargers, use standard household current and are very slow. They are typically reserved for very small battery packs or emergency charging when nothing else is available.
Level 2 chargers use 240-volt current and are the most common type of home and workplace charger. Most public stations have Level 2 connectors and many now also provide DC fast-charging, also called Level 3.
Level 3 chargers, draw 480 volts or more and are used primarily for quick battery top ups to facilitate long-distance travel. Most are located within a few miles of interstate highways.
The Networks
The EA network includes 1,429 DC-fast chargers using the CCS "combo" connectors favored by most electric vehicle makers for their U.S. models, as well as 419 CHAdeMo connectors for Nissan Leaf and Mitsubishi Outlander PHEV models.
Other EV charging networks in the U.S. include ChargePoint, with more than 1,000 fast-charge stations; EVgo, with more than 800; Blink, with more than 1,300 locations, and the Tesla Supercharger network of Level 3 chargers for Tesla EVs.
Almost 21,000 of the stations are Level 2, while Level 3 charging account for almost 3,600 stations. A handful of Level 1 trickle-charge stations round out the tally.
Of the Level 3 locations, 2,450 have CHAdeMo connectors and 2,192 have CCS connectors. Many have both. Tesla has 805 Supercharger stations in the U.S.